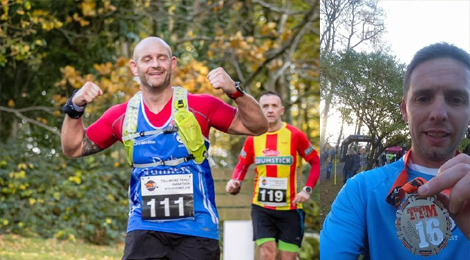 One race and a parkrun we called a quiet week in 2016! More over the jump!
2020 Update
As we slowly make a return to training, and with some small, limited races on the horizon – it certainly feels like some things are getting back to some normal shape. In the meantime, we can go back and read the history books and relive one of the quieter weeks from November 2016.  I challenged the number 1 to a fight but he brought his maes 3, 5, 7 and 9 along – the odds were against me.
Warmup
A nice and mostly quiet week for us at the club, a little lull before the storm at the end of the month – but sure it is all good.  If I'm not myself at training this evening, it is because I has a bad night's sleep, last night I kept dreaming that I was trying to divide ten by three – it was a recurring dream.  Now then, where are those results?!
Tollymore Races
So another mountain race – and one Dubber actually described it as "class".  The route, in and around Tollymore Forest Park with the small figure of 3000ft of climbing – all made up for by some "amazing views".  We had two club members taking part:
Pos
Name
Time
Notes

Marathon Race

55
Andrew Burrows
04:29:41
---

10k Race

4
Jim Simons
00:45:37
---
Magic running guys, and especially on these trail paths – those were not easy races!  Andrew even reviews the race calling it "highly recommended" – so you know who to blame if you're taking part in this next year!  Andrew even tells me that after the toil of the Causeway race – this was a breeze!
parkrun
Over the colder months the number of races lessen, but it is great to know that no matter where you go, you can always trust and rely on the parkrun to get your weekend running fix.  This past weekend, we had an Errigle of Dubs taking to the parks:
Name
Time
Notes

Derry City

Ronan O'FLAHERTY
00:22:10

Victoria

James TRAINOR
00:18:11
Brian DERBY
00:19:15
Stephen LYONS
00:22:10
Nessa AGNEW
00:22:18
Michael KIRK-SMITH
00:22:38
Kathy MAYHEW
00:25:14
Philippa MACLARAN
00:29:33

Queen's

Andrew MCDERMOTT
00:19:01
Newbie PB!
Jim LARKIN
00:19:53
Amy LAVERTY
00:27:24

Ormeau

Paul Patrick MCCREA
00:24:49
Geraldine COYLE
00:28:37

Colin Glen

Brian CONEY
00:26:11
Great running everyone – it there a better way to kick start the weekendOnly the one hat tip this week (that hasn't happened in a while), it was a newbie PB this week – from Andy (at Queen's)!  Despite the issues at the Victoria event (which were promptly resolved), that was also the location of a mini Dub meetup where ex-members Eddie, Colin and Stephen where taking part.
Warmdown
Once again, a final thank you to my spy for sending on some photos this week!  This is your roundup, so make sure to let us know if you're doing any races that might fall under the radar!  When I am down, I always think of the wise words spoken to me by an English teacher at school "Remember, if you can't spell Armageddon – it's not the end of the world!"
Keep on running!
Live long and prosper.
Disclaimer: Every effort was taken to ensure the results above are correct (it's beginning to look a lot like Christmas). If you'd like to make a complaint, then you'll automatically volunteer yourself for writing duties next week 🙂