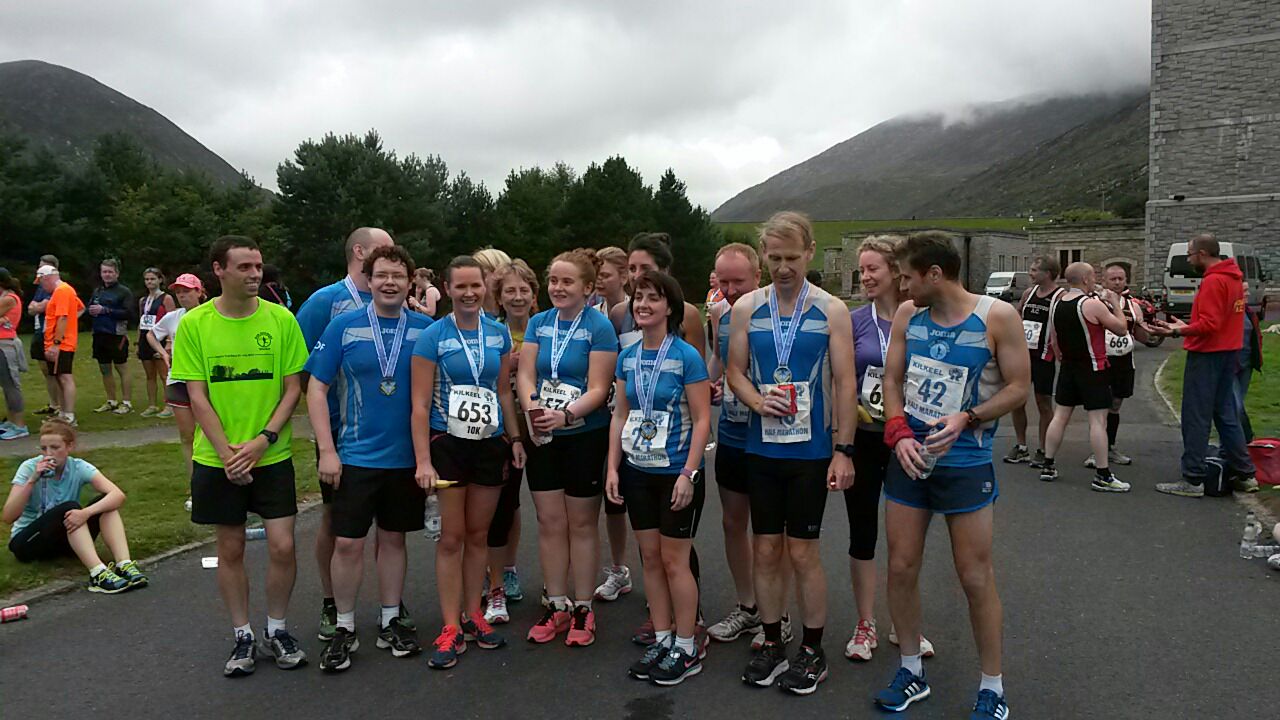 A club trip to Silent Valley, 5 mile, 5k and triathalon races – it is all over the jump!
Warmup
Welcome to the latest edition of the weekly roundup! I hope everyone enjoyed the BBQ at the Boat Club, and survived the trip to the bar afterwards too. It was a great evening, and great to see everyone – you all looked great!  I am very excited, tomorrow I am going to the reverse origami championships – I can't wait to see how it unfolds!  Oh, results, right…
Correction
If you ever needed proof that not everybody is perfect, then look no further than here. No sooner was last week's update released, was it pointed out to me that I've left one very important person off last week's Groomsport Half Marathon results:
| Pos | Name | Time |
| --- | --- | --- |
| 99 | Kate Moffett | 01:48:43 |
Sorry Kate for missing you off the results – I hope that this makes up for it!
Jane's Triathlon
I am aware that Jane participated in an extremely tough triathalon on Saturday, but that didn't stop her being all smiles at the BBQ that evening. I have no idea which race you did, so I will find out for next week's roundup and get you included!
Mallusk 5 Mile Road Race
On Friday evening, the Mallusk Five Mile Road Race took place on a lovely sunny and warm evening with a gentle breeze. The annual route was 3k uphill following by a 5k that was mostly downhill and there was one Dub who lined up on the starting line for us:
| Pos | Name | Time |
| --- | --- | --- |
| 6 | James Trainor | 00:29:18 |
An absolutely fantastic top ten finish and time James – you should be proud of that one. I would say that I hope that you took a well deserved rest after that, but I know what is coming up…
Born 2 Run's Dambusters
Saturday morning and a good group of Dubs travelled to Newcastle to take on the annual Born 2 Run Dambusters race. The day started off with quite a bit of sun, but by race time, it was dull, cloudy and very warm. There were two flavours to the race: with half marathon and 10k races.
Half Marathon
The half marathon route began with a few miles uphill into the park, up to the dam itself, around the reservoir on a trail path and on to the finish. We had eight members take on the 13.1 mile route:
| Pos | Name | Time |
| --- | --- | --- |
| 22 | Brian Derby | 01:33:06 |
| 38 | Jim Larkin | 01:38:43 |
| 59 | Mark Hamill | 01:43:02 |
| 92 | Marcella Cassidy | 01:48:27 |
| 131 | Aine Hughes | 01:54:52 |
| 132 | James Sheridan | 01:55:06 |
| 158 | Binne Vries | 01:58:54 |
| 186 | Ronan O'Flaherty | 02:03:41 |
Fantastic running on a particularly tough course everyone. This most certainly isn't a PB couse, but as always everyone excelled themselves and a mention to Binne who joined our ranks for the day. Also special mention to James, Jim and Ronan who on crossing the finish line, have run 131 miles over ten half marathons to complete the Pure Running Half Marathon Series.
10k
The 10k route began in the park, took in the uphill section to the dam, before backtracking along the side of the reservoir to the finish line. We also had eight club members tackling the course:
| Pos | Name | Time |
| --- | --- | --- |
| 2 | James Trainor | 00:37:17 |
| 17 | Alastair King | 00:42:58 |
| 92 | Aedin O'Neill | 00:51:26 |
| 146 | Kathy Mayhew | 00:55:19 |
| 154 | Victoria Orr | 00:55:51 |
| 162 | Joanne Maguire | 00:56:41 |
| 232 | Jane Patterson | 01:01:55 |
| 262 | Lynn Donnelly | 01:05:57 |
Once again, more fantastic running from every single one of you. A special mention to James who made it on to the second step of the podium, the morning after his top ten finish in Mallusk. It was great to get a cheer as the half marathoners passed the 10k start, and then the series of high fives as we passed again during the race route. All-in-all, it made for a fantastic club day and one to be very proud of!  With special thanks to our very own Noel, official club photographer for the day, we have a gallery of awesome photos from the day!
Parkrun
A lovely bright Saturday morning awaited the club members taking to the Parkrun events around Belfast this weekend.  With a lot of the club in Newcastle or out on long runs in preparation for various marathons – there was a smaller than usual turnout at the events:
Name
Time
Notes
Victoria
Michael KIRK-SMITH
00:22:10
Trevor MURPHY
00:27:26
Alex BLACKSTOCK
00:28:28
Ormeau
Danielle MCCLUSKEY
00:27:13
Congratulations folks, the early starts on Saturday mornings are paying off.  Those are impressive times, yo should all be proud of yourselves!  I hope to back at the Parkruns this week myself!
Warmdown
That's a wrap on another great week for the club.  On a personal note, thanks to everyone for the support, cheers and craic at Dambusters on Saturday – I hope you all had a great day too (and sorry for the jokes to anyone on the bus).  I want to share with you about all the tough time I was having, people used to laugh at me when I told them that I wanted to be a comedian – well nobody's laughing now.
Keep on running!
Live long and prosper.