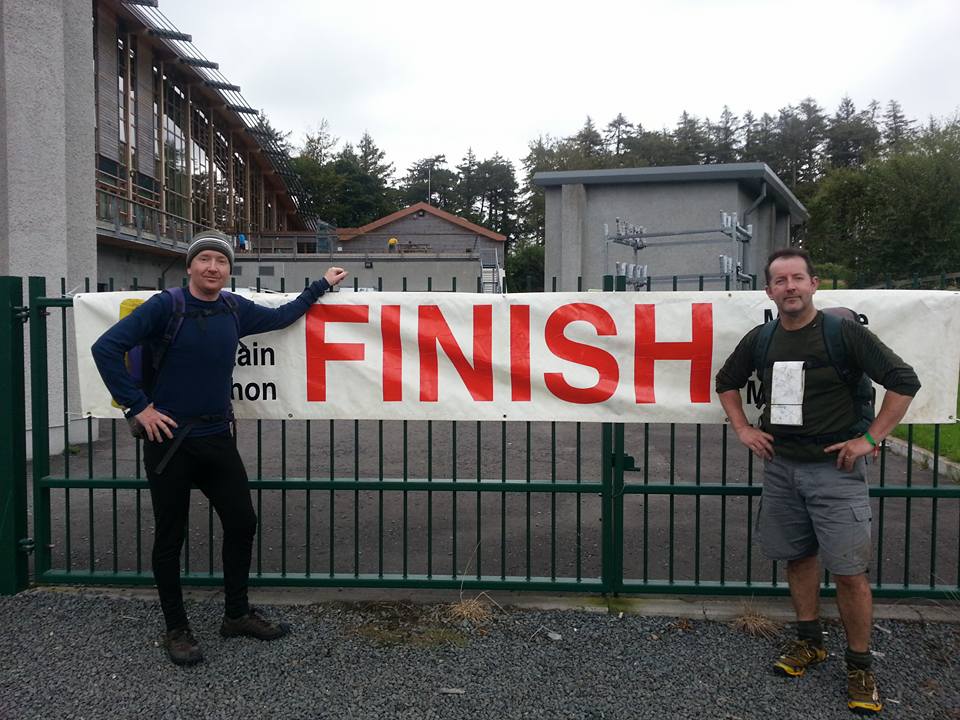 This week go from a marathon, to a half marathon to a 5k! Find out more over the jump…
Warmup
We have a lot to get through this week, including recapping some results from last week!  I need to tell you that I arrived back to my flat yesterday afternoon, and discovered a big Irish spider on the floor – it's alright, we got talking, turns out his name is Paddy Longlegs!
I Made a Woopsie…
So, last week I left out two brave souls who took on some challenges that I happened to overlook. Mike "Parkrun" Smith tackled the historic Great North Run last weekend and James "Can't Come Up With Anything" Sheridan forgot himself and took on the Hell & Back 7k route. Here's a table of the results:
Great North Run

Pos
Name
Time
6355
Mike Smith
01:50:33

Hell & Back

Pos
Name
Time

James Sheridan
Well done guys – great achievements in their own rights! Keep it up!!
Mourne Mountain Marathon
The Mourne Mountain Marathon is Ireland's only two day endurance and navigation event now in it's 36th year! The race was to run 35km over the two days were entrants are presented with a course of varying numbers of control markers, identified by 6-figure map references. They must visit each control in the prescribed order but you can choose their own route between each marker. We had one club member take on the event:
| Pos | Names | Saturday | Sunday | Total Time |
| --- | --- | --- | --- | --- |
| 14 | Noel Larkin & Jim Larkin | 06:15:53 | 04:05:47 | 10:21:40 |
Okay – that is some feat to just finish this event, so really well done guys!  Not only that, but a fantastic time and position to finish in – you should both be very proud.  Jim would like to recommend the race to everyone at the club, and is looking for victims volunteers to take part next year as well.  There is an overnight camping element of the event and I heard that the craic and fun at the campsites are worth it for the challenge!
Belfast City Half Marathon
The now annual Belfast City Half Marathon took place on Sunday morning.  The mostly flat race kicked off at Ormeau Park and heading in towards the city centre, up Grosvenor Road and down the Falls Road, out to Sydenham and around Victoria Park and back towards Ormeau Park.  We had one of two club members taking park…
| Pos | Name | Time |
| --- | --- | --- |
| 34 | James Trainor | 01:19:28 |
| 156 | Brian Derby | 01:28:50 |
| 256 | Niall Porter | 01:29:41 |
| 257 | Dale Biggerataff | 01:29:40 |
| 265 | Lynsey Hamilton | 01:32:38 |
| 272 | David McIlmunn | 01:32:49 |
| 306 | Collette McCourt | 01:31:27 |
| 315 | Neil Curran | 01:34:47 |
| 458 | Mark Hamill | 01:38:24 |
| 481 | Brian Grimes | 01:39:10 |
| 569 | Tara Thompson | 01:41:13 |
| 630 | Paula Owens | 01:35:43 |
| 674 | Heather Baron | 01:43:22 |
| 734 | Raymond McArdle | 01:44:08 |
| 834 | Anne Gribbin | 01:47:12 |
| 1060 | Aedin O'Neill | 01:50:32 |
| 1449 | Kathy Mayhew | 01:57:25 |
| 2199 | Victoria Orr | 02:12:43 |
| 2586 | Jane Patterson | 02:25:04 |
| 2757 | Brona Shaw | 02:37:23 |
Wow, those are fantastic times from every single one of you – the conditions were great and everyone should be proud of their achievements on the day.  We had new half marathon personal bests from James, Tara, Lynsey, Dale, Paula and Kathy – so well done folks!  Also well done to Friend of the Dub Runners, Ivor, who ran an impressive 01:54:04.  Also, a hat tip to Jack, who pointed out to me that the Dub Runner's female time finished just outside a podium in fourth place with a aggregate time of 04:49:54!
As if all that wasn't enough, we had James in Ormeau Park, Nessa & Roisin at one end of Ormeau Bridge and Joanne, Danielle & Gerard were at the other end – all taking snaps for our gallery!
PS – If you didn't get mentioned for the Belfast City Half Marathon sorry about that, but with thousands of entrants it was very hard to find everyone in the results!
Parkrun
A very autumnal Saturday morning was waiting for Parkrunners taking on the free weekly 5k.  A fair few of the club members went out into the cold, out to the park and went for a run:
Name
Time
Notes

Waterworks

Roisin BYRNE
00:22:09
New PB!

Derry City

Ronan O'FLAHERTY
00:24:21

Victoria

Nessa AGNEW
00:22:31
Third Female!
Trevor MURPHY
00:27:53

Falls

Jackie ROBINSON
00:31:33

Ormeau

Cameron RILEY
00:24:00
Martin TEGGART
00:24:28
Rachel BOLT
00:24:34
Anna TRISTRAM
00:27:21
Kathy MAYHEW
00:28:46

Johnstown, Wexford

Michael KIRK-SMITH
00:21:03
New PB!
Great running everyone – that was a chilly morning, so tough to get the legs working!  Special mention this week to Nessa (at Victoria) who was the third female across the line. Also, well done on the getting new personal bests to Roisin (at Waterworks) and Michael (at Johnstown).
Warmdown
Thanks for everyone's help in the roundup this week – it truly was a team effort from everyone!  For those who don't know, it was my birthday last week, and I was given a castle with a built-in abacus – I wasn't sure what to make of it but I suppose it's the fort that counts!
Keep on running!
Live long and prosper.