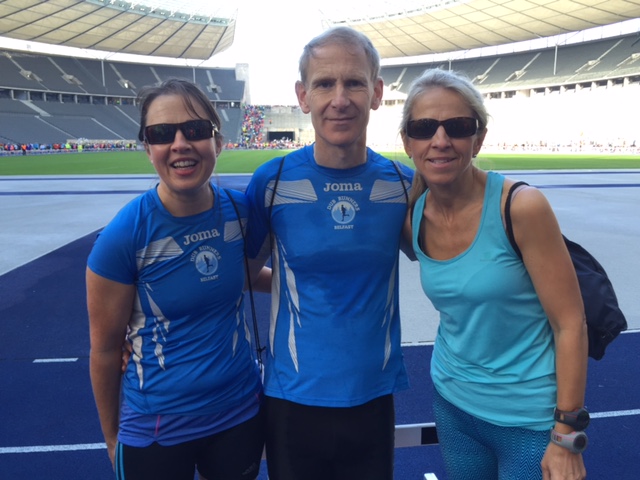 A local and international marathons take centre stage this week, go over the jump for more.
Warmup
It has been another great, but busy week for the club this week – with lots to report on! I wasn't sure if I was going to make the session this evening as I went to bed last night thinking I was Peter Noone from Herman's Hermits – it's okay, I woke up this morning feeling fine. Let's have some results…
Wava League Updates
James has kindly updated the Dub Runner's Wava League! Collette still leads the way with Mark in second, Michael Kirk Smith takes over lead of the Parkrun league following his 21.03 at Ormeau (79% WAVA). Brian Derby wins the Belfast Half and is moving up the table fast – and still has one more race where he can score bonus points.
The last two fixtures are Dundrum and the Seeley Cup – and the Seeley Cup weekend will be the last chance to post a Parkrun time for the league! Time is marching on folks!
Bangor 10k
On Friday evening, Bangor held their annual Aurora Bangor 10k road race around the streets of the town.  The popular and challenging route was tackled by a sole Dub Runner…
| Pos | name | Time |
| --- | --- | --- |
| 211 | Karen Carlisle | 00:50:14 |
Great running Karen – that is a great time!  Not sure if it is a PB (none of my secret sources were able to tell me) – but that is a great time and way to kick start the weekend!
Causeway Coast Races
The Causeway Coast mountain paths were the host of Marathon, Half Marathon and 10k races on an overcast but dry Saturday morning.  While stopping off at the beach might have seemed like a great idea, the famously tough course was choice of race for six of the club members:
Pos
Name
Time

Marathon

14
Niall Porter
03:51:18
28
Dale Biggerstaff
04:07:43
59
Andrew Burrows
04:44:25
60
Andrew McDermott
04:44:25

Half Marathon

148
Kate Moffett
02:17:40
170
Maura Mc Ardle
02:20:58
I am sure that we've all seen the photos from the event – those are spectacular times!  Just getting around the various courses themselves is a challenge, but to complete them in such competitive times is truly great.  It wouldn't be PB territory – and it is the craic and scenery that makes the race – so who's up for it next year?  Here comes the obligatory photo… how are they smiling?!
St. Peter's AC Lurgan Park 10k
Is there a better way to spend a Sunday then going for a leisurely run around Lurgan Park?  And it was all in aid of Southern Area Hospice too!  The local scenic route is popular in the local running scene and we had a solo club member take on the course:
| Pos | Name | Time |
| --- | --- | --- |
| 62 | Vicky Orr | 00:53:32 |
Congratulations Vicky – that is an impressive time, especially after your powerful showing at the Belfast Half the week before too!  Not sure, again, if it was a PB, but it was still a great time!  I hope you put your feet up for the rest of the evening!
Berlin Marathon
The club went international this weekend when a group of four brave members took to the streets of Berlin for the 42nd annual race.  For those who were awake, you were able to follow our intrepid crew using the cool app, those of you weren't up – here's a handy little table for you all:
| Pos | Name | Time |
| --- | --- | --- |
| 2867 | Brian Derby | 03:09:50 |
| 1921 | Nessa Agnew | 03:54:03 |
| 1922 | Roisin Byrne | 03:54:03 |
| 3838 | Geraldine Coyle | 04:15:47 |
Another fantastic showing from the club, with all four of you doing us and yourselves proud!  You should all be well pleased – and I hope that you're enjoying yourselves and have made a little holiday out of the trip!
Parkrun
A cracking, perfect Saturday morning waited for the club members taking on their weekly Parkruns this week. The ideal conditions were really shown by in the truly fantastic times posted by everyone this week! Here's the full results:
Name
Time
Notes

Derry City

Ronan O'FLAHERTY
00:23:28

Victoria

Paula OWENS
00:21:31
Second Female!
Michael KIRK-SMITH
00:21:38
John BOYLE
00:23:54
Alex BLACKSTOCK
00:29:39
Trevor MURPHY
00:43:46

Queen's

Lorraine BRODERICK
00:22:29
First Female! New PB!

Ormeau

Martin TEGGART
00:24:12
Paul Patrick MCCREA
00:24:16
Anna TRISTRAM
00:27:04

Armagh

Donna MCCOY
00:30:07

Comber

Mike SMITH
00:22:37
41 out of 50 now!

Johnstown, Wexford

Noel KELLY
00:18:32
Marcella CASSIDY
00:20:26
Second Female! New PB!
Special mentions this week go to Lorraine who was the first female across the line at the Queen's event and to Paula and Marcy who were second home at Victoria and Johnstown respectively. Also a brand new PB on the Queen's route from Lorraine! First timer PBs this week go to Mike (at Comber) and Marcy (at Johnstown). Finally a nod to Mike – only nine left now!
Warmdown
Once again, thanks to everyone for their help in putting this week's roundup together – it doesn't happen without you all! I had some sad news today, when I found out that Gary Barlow has unfollowed me on Twitter. All I want to say in public is, Gary – whatever I said, whatever I did, I didn't mean it…
Keep on running!
Live long and prosper.