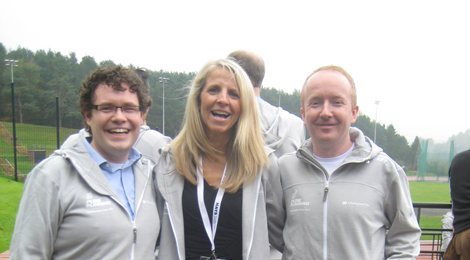 Wava update, Dublin marathon, parkruns and lots more over the jump!
Warmup
This was a fantastic week for the club, lots of celebrations and reasons to be happy.  As we move into the colder weather, we begin to see more trail and cross country races – so the roundup will be staying busy!  Ah folks, it took me ages to get all the clocks changed on Sunday… That's an hour I'll never get back!  So… what have we been up to?
Wava League
James has provided me with the latest standinds – and it makes for fun reading.  Collette now cannot be caught and BrianD is on course to top the male category in league standings.  The main protagonist in the fight is Mark who can equal Collette's points (and bring him above Brian ) – but it all rests on the outcome of the Seeley Cup race.  We have the updated standings to include the Dundrum results, parkruns and the 'other marathon' – so check them out.
Once the league has finished, James will release some fun statistics for us all to look over – so we'll all have that to look forward to!
Jordanstown XC
The cross country season is in full swing and this weekend it was the turn of Jordanstown to host a race.  The very muddy, mostly flat course with a  few short, sharp climbs over the 5k route.  We had two Dubs taking part:
| Pos | Name | Time |
| --- | --- | --- |
| 18 | Sarah Lindsay | 00:19:23 |
| 110 | Maureen Oliver | 00:26:29 |
Well done to the two girls who stormed the course on Saturday in the blustry Autumnal conditions.  You both ran great times and deserved to put your feet up on Saturday evening!
Dublin Marathon
For those who are lucky enough to get a bank holiday off, that usually means a sleep in, nice relaxing day pottering about the house – but to the Dubs, that means an excuse to go and run a marathon!  Monday morning was one of those misty rain days with a cool breezing ensuring everyone was well air conditioned.  We had a great turnout of club members at the marathon:
| Pos | Name | Time |
| --- | --- | --- |
| 556 | Niall Porter | 03:05:04 |
| 1607 | Andrew McDermott | 03:26:00 |
| 1629 | Jim Larkin | 03:26:19 |
| 2975 | David McIlmunn | 03:41:28 |
| 3492 | Hather Baron | 03:48:04 |
| 6436 | Paul Carlin | 04:10:20 |
| 7493 | Jenny Bairner | 04:19:08 |
| 7646 | Marcella Cassidy | 04:22:42 |
| 9093 | Jenny Mullan | 04:35:24 |
| 9995 | Angela Matthews | 04:46:31 |
Note: times are taken from the online tracker – let me know if there are any mistakes.  Fan-tas-tic running everyone!  You did yourselves proud – and I hope you all aren't too tired from all the celebrations.  While there was lots of support on the streets, there was plenty of support form home with lots of us eagerly watching the tracker throughout the morning.  New marathon PBs were set by Niall, Andrew and Jim.  Each and every single one of you are brilliant!  Any more photos folks?
Pure Running Half Marahton Series
Well folks, I promised that I would mention this one last time (this year), and this is it.  This afternoon at a star studded ceremony (well we where there); Jim, James and Ronan received their commemorative jackets for completing the full ten races of the Pure Running Half Marathon Series.
Well done to the guys on their achievement, and also let's give a big hand to Roisin who was there to receive her prize for winning her age category in the series.  Also, thanks to Collette who formed part of the Dub cheering crowd!  In case anyone is interested in having a go at the series next year, have a look at the photo gallery!
Parkrun
While the morning temperatures are going down (and it is getting tougher to get out of bed), it is nice to see that the number of Dubs taking the parks is going up!  We're spoilt for choice now for parks to go to now, and lots of us were out at the weekend too…
Name
Time
Notes

Pollock, Glasgow

James TRAINOR
00:17:34
First Male! New PB!

Waterworks

Roisin BYRNE
00:37:16

Derry City

Ronan O'FLAHERTY
00:24:53
Niall PORTER
00:24:54

Victoria

Kathy MAYHEW
00:25:00
Jane Catherine PATTERSON
00:27:40
Trevor MURPHY
00:27:40

Ormeau

Rachel BOLT
00:24:21
Paul Patrick MCCREA
00:24:44
Karen CARLISLE
00:24:53
Anna TRISTRAM
00:26:07

Stormont

Nessa AGNEW
00:23:33
Second Female! First Timer PB!
Stephen IRVINE
00:23:34
First Timer PB!
A massive well done to everyone for getting up on that cold morning to go running!  Special nods this week to James who was the first over the line at the Pollck event – setting a new PB in the process!  Also well done to Nessa who was the second female home at the Stormont event.  All the first timers this week were at Stormont with Nessa and Stephen trying out the course for the first time.  Not to mention there was a new entrant to the 100 Club this weekend too (thanks Niall for the buns and cake!):
Warmdown
Sorry for all the pictures of me this week, but in fairness I've only been given one photo from Dublin – but if I get any more I will happily share the joy with everyone!  I was playing a new board game over the weekend called Bonopoly – it's where the streets have no name.  Goodnight!
Keep on running!
Live (Run) long and prosper