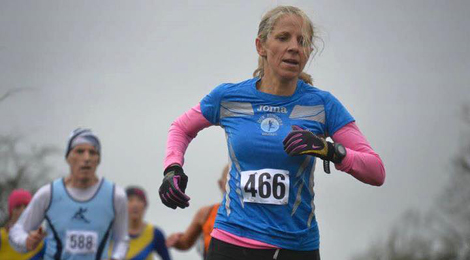 Trail races, XC and parkrun – oh my! More over the jump!
Warmup
Well, that was a wee bit windy that week, wasn't it?!  Despite the best efforts of mother nature – that didn't stop the club getting out there and giving it their all and best – more on that a little later.  There is news coming in this week that the inventor of the tongue-twister has been arrested – apparently he will be getting a tough sentence.
Run Forest Run: Loughgall
The next race in the annual winter series moved to Armagh and beautiful surroundings of Loughgall – not that anyone could see it! The conditions were less than idea, with the torrential rain and strong winds battering the country, which closed off part of the route, bringing the total distance to just under the 10k mark (but we'll let them off with that!) We had three Dubs out on the course:
| Pos | Name | Time |
| --- | --- | --- |
| 48 | Collette McCourt | 00:37:55 |
| 72 | Mark Hamill | 00:39:23 |
| 79 | Paula Owens | 00:39:41 |
Great times posted by everyone on the hilly and slippery trail route in those conditions. The next race in the series is on 19th December at Tollymore, and they have a very funky medal in the shape of a Christmas tree… I know how we like our bling in the club!!  Thanks for the obligatory photo too:
Malcolm Cup
We love our members who got up on Saturday morning, saw the gorgeous conditions we were experiencing and thought to themselves "I know, let's go and race in a cross country run..!" We had four brace Dubs journey to Ballyclare to face the challenging route which was "very muddy, very wet and very windy". Let's take a look at how they did:
Pos
Name
Time

Four Mile Race

33
James Trainor
00:25:37

Three Mile Race

56
Stephen Irvine
00:21:25
111
Roison Byrne
00:25:23
114
Nessa Agnew
00:25:31
More great cross country running and times folks, that was not an easy course and you were all flying around.  I hope you all got home and, deservedly, put your feet up for the evening.  I even had a great little photo sent to me:
Hazelbank Run
After the horrific weather on Saturday, Sunday was positively tropical by comparison! Newtownabbey hosted the charity five mile event to raise valuable funds for the Action on Hearing Loss cause, where we had one member take to the streets:
| Pos | Name | Time |
| --- | --- | --- |
| 39 | Roisin Byrne | 00:39:14 |
Fantastic running Roisin, great time over the more unusual five mile distance.  For anyone wondering, the field of a few hundred took the mostly flat route two and half miles out and back again to Jordanstown.  Roisin also commented on the "beautiful, sunny conditions" on the day – as evidenced in the picture:
Griddle 10k
One final race from Sunday, and the attention turned to Downpatrick and scenic surroundings.  The 10k course was a tough "hill after hill" route, with a "pretty cool inflatable finish line".  We had two club members there:
| Pos | Name | Time |
| --- | --- | --- |
| 35 | Alastiar King | 00:43:55 |
| 119 | Denise McAlarney | 00:57:12 |
Really well done folks – from what I hear that was not an easy race, so really great times!  I'm also well informed that the run was really well organised (and that the better weather helped too)!!  One for the diaries for next year.
parkrun
Last, but definitely not least, we move on to the parkrun!  The free weekly timed 5k route is a popular start to the weekend for many of us – and this week did not disappoint:
Name
Time
Notes

Victoria

Michael KIRK-SMITH
00:22:55
Roisin BYRNE
00:23:01
Second Female!
Nessa AGNEW
00:23:14
Third Female!
Martin TEGGART
00:25:36
Trevor MURPHY
00:27:18
Kathy MAYHEW
00:27:45
Philippa MACLARAN
00:29:34
Lynn DONNELLY
00:30:40
Brona SHAW
00:32:12

Queen's

Natalie THOMPSON
00:20:55
First Female!
James TRAINOR
00:20:56

Wallace

Jackie ROBINSON
00:31:03

Ormeau

Rachel Tessa BOLT
00:24:47
Paul Patrick MCCREA
00:25:19
Karen CARLISLE
00:25:30
Ronan O'FLAHERTY
00:25:42
Woo-who!  Fantastic running by everyone on Saturday morning – even with running into that head wind!  Special nods this week – all going to the girls! Natalie was first across the line at the Queen's event, while over at the Victoria event Roisin and Nessa took the final two podium spots finishing second and third over the line! Also fair play to James, Nessa and Roisin who all did the double on Saturday tackling the parkrun followed by the tricky cross-country race. Saturday morning (or all day for that matter) was not a day for PBs, so really well done to everyone for braving the heavy showers and wind to get out running – you all deserve a pat on the back!
Warmdown
That was a busy wee week, thanks to everyone for their help with the finer details and, of course, the valuable pictures of the club in action!  I got some bad news today, my publisher has told me that they're not going to publish my autobiography – story of my life.
Keep on running!
Live long and prosper