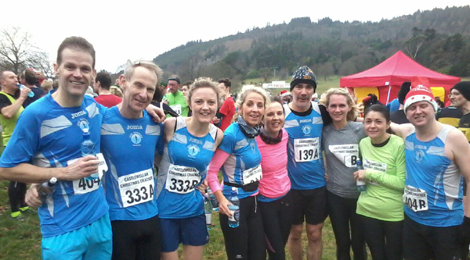 It is the final roundup… of 2015! Find out more over the jump!
Warmup
I hope that you all had a great Christmas – and that everyone ate and drank far too much and are already swearing that you won't do that again next year… who knew that there were so many different culinary options for leftover turkey?! I have to admit that we decided as a family not to have a hot Christmas dinner this year – we went cold turkey. Now, let's see what we've all been up to:
Greencastle 5 Mile Road Race
The traditional Greencastle route near Omagh is a popular race for athlete's based in the North West.  Usually, like our very own trail race, the weather plays a big role – this year all everyone had to complain about was "that bloody hill" after four miles!  We had two Dubs
| Pos | Name | Time |
| --- | --- | --- |
| 111 | John McCullagh | 00:33:49 |
| 851 | Lynn Donnelly | 00:50:36 |
Fantastic running from John and Lynn representing us all in Tyrone.  I know there was quite a wind around the route too, which never helps things!  Finally a special mention to 'Friend of the Dubs' Ivor Russell who also ran the route in an impressive 00:41:37!
Burren Townlands 6 Mile Race
For anyone around the Newry area over the festive period there was another post-feast race to sink your teeth into.  The hilly and slightly damp route at Warrenpoint attracted one of the Dub's to take on the course:
| Pos | Name | Time |
| --- | --- | --- |
| 43 | Aine Hughes | 00:49:33 |
What a great time there Aine, especially on a course with less than ideal conditions (not to mention straight after Christmas).  I didn't spot any other club members around – so if I missed you (see below)..!
Castlewellan Christmas Cracker
No, this is not an advertisement for my stand up comedy tour – it is a very tough team trail race, surprisingly in Castlewellan.  We had an Errigle of Dubs (along with friends of the Dubs) taking part, let's take a look at how they fared:
Pos
Runner 1
Runner 2
Time
8
John Black
(North Belfast Harriers)
James Trainor
00:56.07
73
Dale Biggerstaff
Collette Mccourt
01:08.47
102
Brian Derby
Natalie Connolly
01:11.45
108
Brian Grimes
Oliver Quinn
(Friend of the Dubs)
01:12.23
138
Tara Thompson
Jim Larkin
01:15.09
154
Mark Hamill
Stephen Irvine
01:16.20
201
Anne Gribbin
Heather Baron
01:21.09
202
Roisin Byrne
Nessa Agnew
01:21.11
384
Paula Owens
Ciara Maguire
(Friend of the Dubs)
01:43:43
Great running everyone, those are fantastic times and achievements and each and every single one of you should be proud (especially since I can't move since my Christmas dinner)!  I know there was a lot of chat around the club about this event, so I'm glad to report that everyone had a good time and enjoyed the race!  Our featured image at the top of the page is of Mark, Brian D, Nataliem Roisin, Nessa, Brian G, Anna, Heather and Sil at the end of the race (which explains all the smiles).  Below is an action picture taken during the race:
"Ho, Ho, Ho" parkrun
As if there wasn't enough excitement on Christmas morning (hands up, who was up at stupid o'clock?!), what better way to prepare for the turkey, ham, pudding, cake, sweets and alcohol than by getting one last 5k run in before it all kicked off for real.  There were plenty of Santa's little helpers out in the parks on Friday morning:
Name
Time
Notes

Norwich

Rachel BOLT
00:23:03

Waterworks

Roisin BYRNE
00:23:38
Maureen OLIVER
00:28:11
Jackie ROBINSON
00:30:58

Victoria

Brian DERBY
00:21:10
Paula OWENS
00:21:10
Brian GRIMES
00:21:23
Martin TEGGART
00:23:29
Trevor MURPHY
00:29:31
As there were no top three finishes, new PBs set or any newbie PBs, I will send out the special mentions to everyone who sacrificed part of their Christmas morning to go for a run – we salute you all!
parkrun
If your local parkrun didn't run on Christmas morning, there wasn't long to wait for the traditional Saturday morning run – just the very next day!  Some lovely, fresh, calm parks awaited the runners brave enough to venture out of the house:
Name
Time
Notes

Derry City

Ronan O'FLAHERTY
00:26:08

Victoria

Jane PATTERSON
00:29:21
Trevor MURPHY
00:31:00

Wallace

Karen CARLISLE
00:25:48
Newbie PB!
Jackie ROBINSON
00:30:36
Laura KING
00:32:21

Ormeau

Kate MOFFETT
00:23:44
Martin TEGGART
00:24:58
Brian DERBY
00:25:42
Kathy MAYHEW
00:25:42
New PB!

Dundalk

Nessa AGNEW
00:23:37
Third Female! Newbie PB!
Special mention to Nesaa who finished third at the Dundalk event.  Also congratulaitons to Kathy who set a new PB at the Ormeau event.  Finally, well done the on newbie PBs by Karen (at Wallace) and Nessa (at Dundalk).  Well done everyone throughout the year at all the parkrun events.
Warmdown
I would like to take this opportunity to wish all the Dub Runners (and friends of the Dubs) a Happy New Year filled with many, many PBs and fantastic times.  Also, thank you for the support of the roundup over the last year – all I can say is if I got your time or name wrong, if I missed out on a result or even deliberately put down the wrong information to wind you up, all I can say is… you'll get over it!!
I was invited over to my neighbour's house for some Christmas drinks and she told me that she took out a loan to have her house exorcised. It cost £20,000 but she couldn't keep up the payments – now she's been repossessed.
Keep on running!
Live long and prosper.
Christmas Special
I know you're all itching to know that the missus got me a vacuum cleaner for Christmas. I'm in the doghouse with her now though, all because I told her that her present sucks…