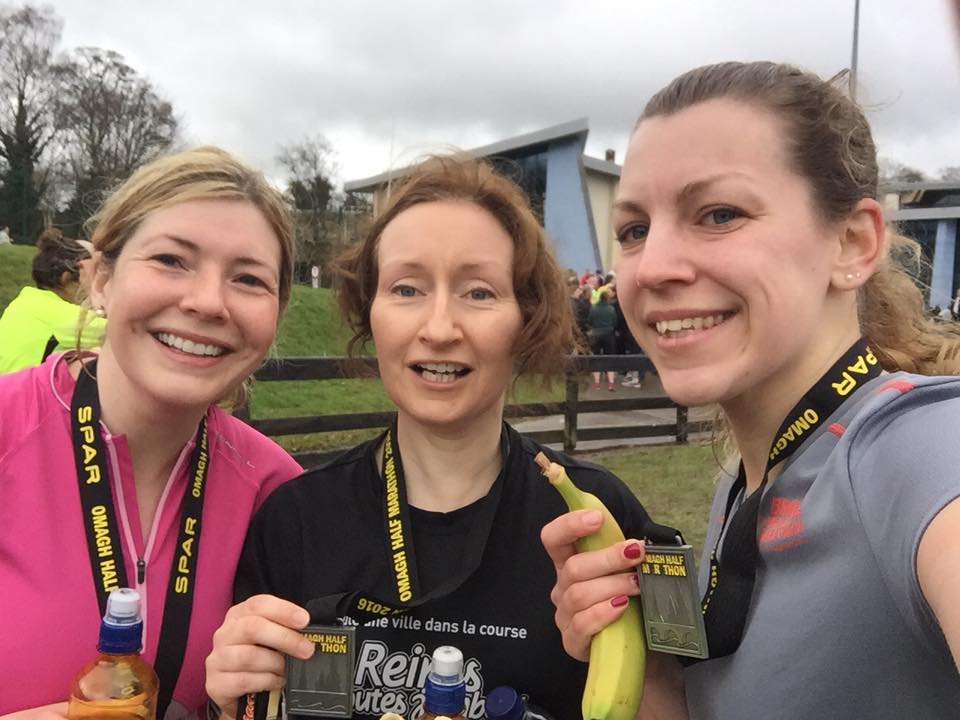 From parkrun to Omagh Half – it is all covered over the jump!
Warmup
Happy Easter everyone!  I hope that you all over indulged in copious amounts of chocolate over the last few days!  Nothing like suffering for a few training sessions after all that is there?!  Before we get to the results, I have some news for you all, I quit my job at the helium gas factory.  There were many reasons but mostly it was because I refused to be spoken to in that tone of voice.
Omagh Half Marathon
Dull, dreary and overcast – that's enough about the route for now! The ever popular Omagh Half Marathon was held on Saturday morning in rainy, damp and less than ideal conditions. The undulating route takes runners from the centre of Omagh, around the surrounding countryside, before a gentle jaunt around a running track for the finish line. We had a great representative of Dubs present:
| Pos | Name | Time |
| --- | --- | --- |
| 99 | Neil Curran | 01:27:19 |
| 250 | Damian Cranney | 01:36:03 |
| 690 | John Boyle | 01:51:02 |
| 915 | Jennifer Bairner | 01:59:34 |
| 981 | Andrew Burrows | 02:02:12 |
| 1064 | Geraldine Coyle | 02:06:54 |
| 1109 | Danielle Corey | 02:08:13 |
| 1158 | Siobhan Laucler | 02:11:20 |
Fantastic running everyone, those are great times. I know for quite a few of you this was your first half marathons of the season – so it is always good to get a sighter on early on! Also, special nod to our former member and one hour thirty pacer Niall – who completed the course (and I'll let you guess what time he ran)! After the trials and tribulations of the Omagh Half, I hope that you all tucked into several well deserved Easter Eggs on Sunday. Finally here is the obligatory post-race selfie:
Whitehead 5 Mile Road Race
If you keep going out of Belfast on the M5, go past Carrickfergus you eventually reach Whitehead – and this was the location of the annual Easter Monday 5 Mile road race. The mostly coast route takes in part of the main Belfast Road before looping into the town. This year, we had the single representative present from the Dubs:
| Pos | Name | Time |
| --- | --- | --- |
| Ukn | Maureen Oliver | 00:46:58 |
Great running Maureen – I think that we can classify you as a regular at this run now! Not only that, but you finished in FIRST place in your category too! What a great Easter Monday running effort!
parkrun
It is always nice to know, that even if you don't fancy racing at weekends there is always the reliable parkrun events happening for you to get your weekly fix. In a slightly colder than expected week, the hats and thermals were donned one more time as we got into the parks and pushed ourselves towards the finish lines (read: buns, tea and coffee).
Name
Time
Notes

Derry City

Ronan O'FLAHERTY
00:24:03

Queen's

James TRAINOR
00:18:32
Third Male!
Natalie THOMPSON
00:21:16
First Female!
Peter DONNELLY
00:22:58
Joanna PATTERSON
00:25:34
James GUINN
00:27:16
Newbie PB!
Jane PATTERSON
00:32:40
Newbie PB!

Falls

Jim LARKIN
00:22:29

Ormeau

John MCCULLAGH
00:20:44
A great way to kick start the weekends – and it is even better when it is a holiday weekend too – great running everyone! Special mentions this week all go to folks running at the Queen's event (must have been something in the water). Well done to Natalie who was the first female home and to James T who was the third guy across the finish line. We also had two newbie PBs which came from James G and Jane.
Warmdown
Great efforts from everyone – it is always harder to motivate yourself to get out when it is a holiday – so hat tips to everyone!  I have to admit to enjoying my Easter break this year, in fact last night I slept like a log – I woke up in the fireplace!  Now where's I'd leave that egg…?
Keep on running!
Live long and prosper.
Disclaimer: Every effort (read: no effort) was taken to ensure the results above are correct. If you'd like to make a complaint then you'll automatically volunteer yourself for writing duties next week 🙂