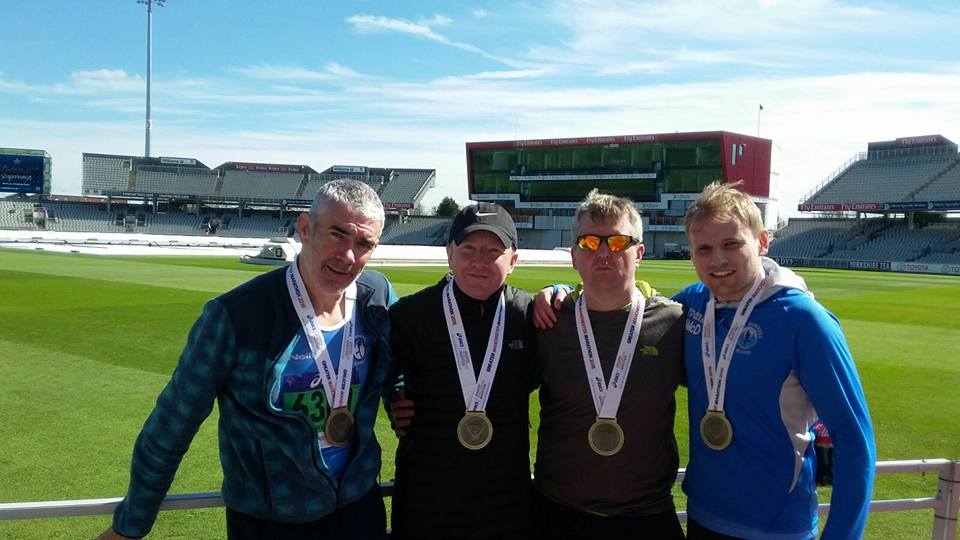 Form parkrun to TQ10k to Manchester Marathon over the jump!
Warmup
Could someone tell the world that it is meant to be Spring please?  I'm getting tired of still having to wear the warm clothes during training!!  We'll get to the results in a moment, bu in my real job, they're trying a load of team building exercises, so on Friday it's Jamaican hair day – I'm dreading it already.
Mencap Coffee Afternoon
On Saturday, a few members of the club are hosting a coffee afternoon to raise funds to help support the amazing work of the Mencap charity. It all kicks off in Downside Community Centre on the Cregagh Road from 2pm to 4pm. Everyone is welcome and encouraged to attend. Need a timely reminder? Why not express your interest on their Facebook event?
Wave League Latest
Hot off the presses after this weekend's action, James has updated the Wava League with the latest standings.  Find out who's top of the charts right here!  Updates include the standings after the Larne Half Marathon and the most recent Other Marathon races.
Manchester Marathon
While Manchester is more famously known for winning Premier League titles (both in red and blue), Sunday it was the host of it's annual marathon race.  The popular course is described as being very flat – not that that makes running 26.2 miles any easier!  The world class field had some local talent among its ranks:
| Pos | Name | Time |
| --- | --- | --- |
| 1267 | Jim Larkin | 03:22:27 |
| 1657 | Bernard Grimes | 03:28:06 |
| 1952 | Andrew MdDermott | 03:32:05 |
| 2227 | Stephen Irvine | 03:36:48 |
So the lad's weekend in Manchester went well by the looks of things?!  All fantastic times – hopefully it was worth the trip over!  Special hat tip to Jimbo, who only went and set himself a new marathon personal best time on Sunday morning.  Well done guys – hope you all took the day off yesterday to rest!
Titanic Quarter 10k
Another year at the ever popular 10k race around the Titanic Quarter at Belfast Dock's.  The mostly flat, in-and-out route is tempered with an ever present strong head wind holding participants back.  Despite the lack of scenery on the course, it is always a good one to try and go for a good time, and we had a few trying just that:
| Pos | Name | Time |
| --- | --- | --- |
| 145 | Collette McCourt | 00:40:51 |
| 176 | Alastair King | 00:41:24 |
| 286 | James Sheridan | 00:45:53 |
| 325 | Peter Donnelly | 00:46:50 |
That was an unexpected good day (after Saturday) and we had a small, but talented group taking part on Sunday afternoon who all posted excellent times.  We have one hat tip, that goes to James S who set his 10k personal best time on the course.  I hope you all went home for your well deserved Sunday roast!  The gallery makes a return for this race too – check out to see if we got you (thanks Ryan)!
parkrun
T'was mixed bag of weather conditions for anyone looking to run on Saturday. From glorious sunshine to thunder and hailstones – all within the space of about ten minutes! Not to fear, that wouldn't stop the club from making the most of a good opportunity, and we took to the parks in our droves as we set off on our weekly 5k routes:
Name
Time
Notes

Greenock

Jennifer BAIRNER
Dub Runners of Belfast
00:27:39
Newbie PB!

Derry City

Ronan O'FLAHERTY
Dub Runners of Belfast
00:25:22

Victoria

Nessa AGNEW
Dub Runners of Belfast
00:24:31
Kathy MAYHEW
Dub Runners of Belfast
00:25:23
Jane PATTERSON
Dub Runners of Belfast
00:29:24
Trevor MURPHY
Dub Runners of Belfast
00:41:00

Queen's

Peter DONNELLY
Dub Runners of Belfast
00:22:32
New PB!

Fall's

John MCCULLAGH
Dub Runners of Belfast
00:21:24

Wallace

Dale BIGGERSTAFF
Dub Runners of Belfast
00:19:25
New PB!
Jackie ROBINSON
Dub Runners of Belfast
00:31:30

Ormeau

Karen CARLISLE
Dub Runners of Belfast
00:24:10

Colin Glen

Brian CONEY
Dub Runners of Belfast
00:25:23
New PB!
Another strong week for the club at the parkruns – really great running everyone!  We had one newbie PB this week comes from Jenny (at Greenock) in Scotland. We also had a few new course PBs this week set by Pete (at Queen's), Dale (at Wallace) and Brian (at Colin Glen).
Wamrdown
Always great to get sent photos from races – especially when certain people don't know that they've been snapped (Pete, I'm looking at you here).  Keep the photos coming in to me please!  I got some bad news during the week, some thieves broke into my flat and stole everything except my soap, shower gel, towels and deodorant – dirty buggers.
Keep on running!
Live long and prosper.
Disclaimer: Every effort (read: little) was taken to ensure the results above are correct. If you'd like to make a complaint then you'll automatically volunteer yourself for writing duties next week 🙂