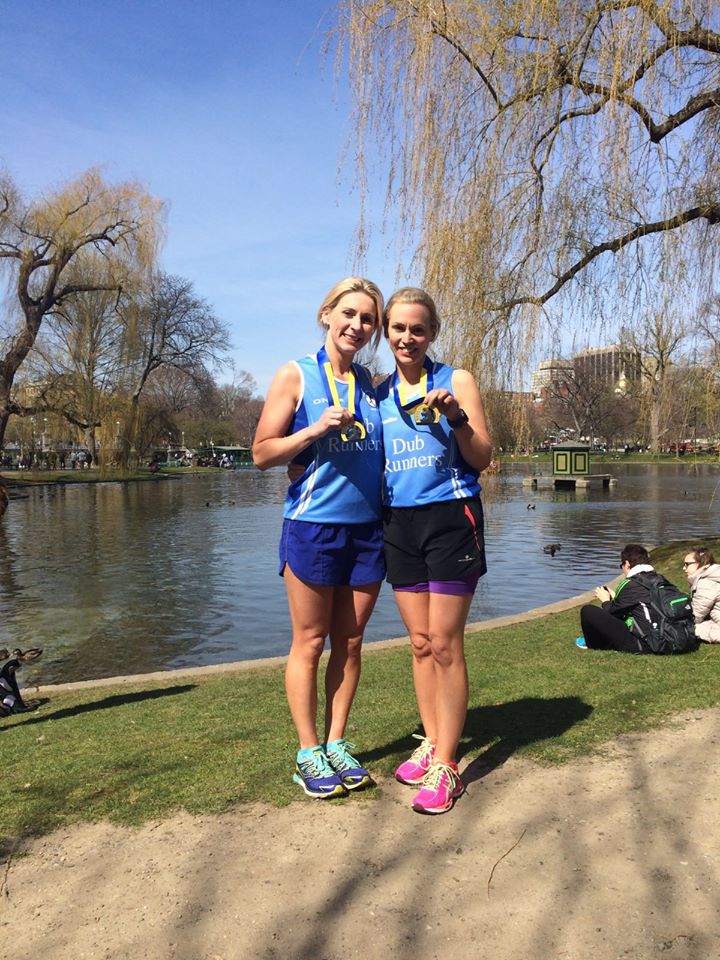 5k to 10k to 13.1 miles and a secret revealed in the roundup over the jump!
Warmup
So the secret is out – not sure what I am talking about?  Keep reading!  Before we get to all the results my nephew came home from school the other day, very excited, to tell me that he is going to be playing the role of the 'husband' in his school's summer play.  "Not to worry," I told him "maybe next time you'll get a speaking role!"  Now, let's see what we've been up to:
Boston Marathon
The course celebrating its 120th year – the oldest continually run marathon in the world – had massive support for women this year, being the 50th year that women were "allowed" to join the men.  Temperatures were over 20 degrees with no shade along the historic route, kicking off on Main Street in the rural New England town of Hopkinton, hitting "heartbreak hill" at mile 20 – a 1 mile long climb – and finishing in Boston beside the common.  We had two Dubs there:
| Pos | Name | Time |
| --- | --- | --- |
| 5,734 | Lynsey Hamilton | 03:23:11 |
| 11,336 | Paula Owens | 03:41:38 |
Ye kept that one quiet!!  I hear that there was greatsupport along the entire course from the locals – we would have supported them too through social media if they told us about the race!!  Fantastic running both of you, I hope that you both are enjoying a well deserved rest now!!  They even had time to pose for a photo too:
Born 2 Run: Castleward Challenge
Castleward was the host of a very lovely and scenic run over the weekend.  The challenging route including a punishing hill at around 8km but was tempered by forest trails (that's what I was told) and lough side paths.  We had a handful of Dubs taking part in both races:
Pos
Name
Time

Half Marathon Race

106
Conan Magee
02:00:22

10k Race

56
Jane McCann
00:53:04
59
Anna Hicks
00:53:20
110
Victoria Orr
00:56:59
Really great running folks, those re some great times that you should all be proud of!  I know the day started off a little dull, but that by the finish like the sun was shining and a great day was had by all!  Also, just to put it out there – Vicky told me that she is definately doing the half marathon next year.  No pressure then :
parkrun – #lovelittlestoke
In a week when parkrun hit the news headlines, it was a return to business as usual in the parks across the world, as we headed out to run with, and in support of Little Stoke's event. There was an Errigle of Dub's up early on Saturday morning, including:
Name
Time
Notes

Pollock

Jennifer BAIRNER
00:28:56
Newbie PB!

Derry City

Ivor RUSSELL
23:18
Ronan O'FLAHERTY
00:24:52

Victoria

Michael KIRK-SMITH
00:25:30
Kathy MAYHEW
00:25:38
Jane PATTERSON
00:29:10
Trevor MURPHY
00:46:52

Queen's

Alastair KING
00:20:17
Newbie PB!
Peter DONNELLY
00:22:42
James GUINN
00:23:45
New PB!
James TRAINOR
00:23:54
Aine LOANE
00:26:39

Ormeau

John MCCULLAGH
00:20:05

Dungloe, Donegal

James SHERIDAN
00:22:41
First Male! Newbie PB!
Hat tips this week go to James S, who was the first home at the relatively new Dungloe event. Also to James G (at Queen's) on setting a new course PB. Finally, our newbie PBs this week came from Jenny (at Pollock), Alastair (at Queen's) and James S (at Dungloe).
Warmdown
This weekend, the eyes of the world turn towards London for their marathon race – make sure you keep an eye out on the TV for the Dub's who're taking part! A little rant before I leave you all: I can't stand it when people don't know the difference between your and you're. There so stupid.
Keep on running!
Live long and prosper.
Disclaimer: Every effort (read: as little as possible) was taken to ensure the results above are correct. If you'd like to make a complaint then you'll automatically volunteer yourself for writing duties next week 🙂