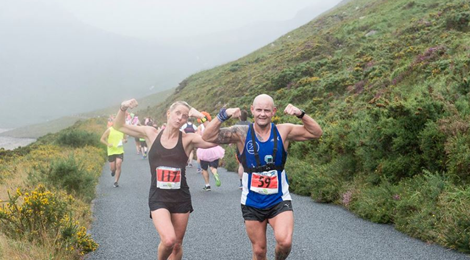 Half marathons and the parkruns are the order of the day – more over the jump!
Warmup
I hope you all had a great evening on Saturday night at the BBQ (I'm still full from that steak, hmmmm)! Thanks to Nessa for all her organisation, and I think I speak for everyone when I say – when is the Christmas night out?! You know, I was almost asleep on Saturday night / Sunday morning, when I was awoken by a text message from a member of the club (who shall remain nameless) which simply said 'BNAG' – I thought to myself, that's bang out of order! Now then, what have we been up to?
Rock and Roll Half Marathon, Dublin
'They say the heart of rock and roll is the beat…' sadly Huey Lewis and the News were not at finish greeting the runners in Dublin who rock and rolled their way around the ever popular course. This is a left over from the bumper edition last week, because someone gave me a dig in the ribs that I'd forgotten about the race. Would I really have forgotten? Not at all, I just didn't want the result getting lost in the midst of everything else from last week. We had one Dub on the start line:
| Pos | Name | Time | Notes |
| --- | --- | --- | --- |
| 3051 | Paul McCrea | 02:04:47 | --- |
Great running Paul – absolutely fantastic going.  That course is a tough little 13.1 miles – beginning near the port, taking in the very temping Guinness Storehouse (no free samples?) before looping around the zoo and heading for the finish!  Magic running dude!
Dambusters
No, don't worry I haven't gone back in time – just to Silent Valley!  The very scenic route, is 3 miles uphill to the park, before continuing uphill  towards the dam (hence the name), a reprieve of a downhill, before a quick trip over the top of a small mountain.  All that  plus add some really horrible rain into the bargain – and you get just a classic race.  We had a small Errigle of Dubs taking on the course:
Pos
Name
Time
Notes

Half Marathon

48
Mark Hamill
01:45:45
---
75
Kate Moffett
01:50:19
---
76
Anna McArdle
01:50:18
---
103
Andy Burrows
01:56:23
---
181
Jenny Mullen
02:19:46
---

10k

23
Jim Simons
00:45:37
---
Really, really well done folks!  That is some tough course, so you've done extremely well.  Most certainly not a day for PBs – so all you had to tease you all over the line was the thought of the delicious BBQ waiting for you for a few hours later.  Now, there was a lot of bribery this week over certain photos that surfaced online, of course I duly accepted said bribes with the promise that no photos would end up in this roundup…
parkrun
Dull, damp and dreary – it was a typical summer Saturday morning in the parks across Northern Ireland for the weekly test to see how a 5k will go down!  There was an Errigle of club members in the various parks at 9:30am taking to the start line:
Name
Time
Notes

Waterworks

Maureen OLIVER
00:28:32

Victoria

Brian GRIMES
00:20:30
Michael KIRK-SMITH
00:22:39
Nessa AGNEW
00:22:48
Alex BLACKSTOCK
00:28:45

Queen's

James GUINN
00:24:13
Jane PATTERSON
00:30:53

Portrush

Gareth MCALLISTER
00:23:24
New PB!

Wallace

Karen CARLISLE
00:25:39
James TRAINOR
00:25:40

Ormeau

Alastair KING
00:20:03
John MCCULLAGH
00:20:43
Ronan O'FLAHERTY
00:23:45
Danielle COREY
00:24:09
Amy LAVERTY
00:24:30
Cameron RILEY
00:25:00
James SHERIDAN
00:25:02

Colin Glen

Frances MC CAMBRIDGE
00:29:30
Jackie ROBINSON
00:34:00
Woowho!  Fantastic to see so many of the club out and about on Saturday morning so early – especially when we all knew it was going to be a late night with the BBQ!  Everyone gets a hat tip this week, but a special extra nod to Gareth who ran a new PB at the Colin Glen event on Saturday morning!  Good work!
Picture Special
Like I wasn't going to put the picture up – here are the Dub girls at Dambusters on Saturday:
Warmdown
That's us almost done for another week.  As always, let me know if I missed anything – and of course keep sending me on any photographs from the races too!  Don't forget the roundup is here as a celebration of the club's activities – not just running, but everything, if you think it is important – we'll make sure that it get included.  I'll shortly be having a dangerous cup of coffee – safe tea first though.
Keep on running!
Live long and prosper.
Disclaimer: Every effort (read: I think I got there) was taken to ensure the results above are correct. If you'd like to make a complaint then you'll automatically volunteer yourself for writing duties next week ??