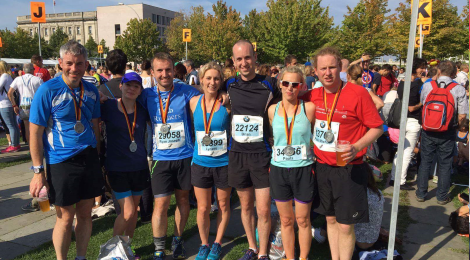 The club is full swing back into races this week, all the results over the jump!
Warmup
Oh yes, now we're talking!  October is going to be a very busy month for the club, and we even have lots to get through this week!  I know it getting towards the end of the season, but believe it or not, I got stung by a bee over the weekend – £20 for a jar of honey.  Let's get going with the results.
Copenhagen Half Marathon
Around 20,000 runners took on the second (really, only the second!?) Copenhagen Half Marathon on a surprisingly warm day around the city centre. There was amazing support from the locals lining every street, coupled with live performers along the route made it a great big race atmosphere. Out of the twenty thousand plus entrants, we had one Dub there:
| Pos | Name | Time | Notes |
| --- | --- | --- | --- |
| 4,859 | Andrew Noble | 01:44:57 | --- |
Great running Andrew – I watched parts of the video of the race, and it looks like a fantastic day and event! I hear that there were some free post-race refreshments (ahem) at the race village, which all helped to top off a great day. He event found time in the festivities to take a quick picture and send it over!
Bangor 10k
Some races are held in exotic places, where you can send 'Wish You Were Here' postcards from.  Other races are held in Bangor!  I jest of course, but the very popular annual 10k race took place on Sunday, and we had one Dub take to the starting line:
| Pos | Name | Time | Notes |
| --- | --- | --- | --- |
| 269 | Brian Coney | 00:52:28 | --- |
Nice running Brian – taking a wee week off form the parkrun to indulge in a slightly longer distance!  That is a tricky enough seaside course that is quite undulating – so hats off on the time too!  Races on Sunday's are good, because you are allowed to sit back and relax and do nothing for the rest of the day!!
Causeway Coast Marathon
In what was described as the "hardest thing I've done in running to date" (I'll give you a clue, Andrew said it), Saturday saw the hosting of the annual endurance marathon on the Causeway coast. Participants are not fooled by the scenery along the coast (not that you could see very much) masking out the sheer toughness of the route, in quite horrible conditions on Saturday morning and afternoon. We had two Dubs out there:
| Pos | Name | Time | Notes |
| --- | --- | --- | --- |
| 80 | Andrew McDermott | 05:02:56 | --- |
| 95 | Andrew Burrows | 05:18:12 | --- |
Well done guys, that course is not easy on the best of days – so great going to just get to the finish line. It was a tough old slog, you just need to take a look at some of the photos just to see how rough it actually is! Well done all, you can put your feet up for the rest of the weekend now!!
Berlin Marathon
Come on be honest – who wasn't tracking this race and shouting at their phones to try and encourage the Dubs on… just me then!? For those Wondering, the course takes place on the streets of central Berlin, starting at 38m above sea level with, apparently, very few corners in the race – who knew!? With great support along the route, we had five Dubs take on the route this year:
| Pos | Name | Time | Notes |
| --- | --- | --- | --- |
| 150 | Collette McCourt | 03:09:52 | New PB! |
| 243 | Lynsey Hamilton | 03:17:14 | New PB! |
| 597 | Paula Owens | 03:31:02 | --- |
| 10,730 | Sean O'Hagan | 03:50:53 | PB by 25 minutes! |
| 14,658 | Ryan Love | 04:05:02 | --- |
| 18,256 | Peter Donnelly | 04:22:41 | --- |
Magic running everyone! The tension lying in bed waiting for the times to update was unbearable (there's an image you won't be able to get out of your heads). Now that the marathon is over, make sure you a all go off now and enjoy the rest of your trip(s)! You all did a great job, well done!  Thanks to our Collette for sharing this finish photo of the gang (plus one):
parkrun
There was a storm brewing on Saturday, so getting out early was the key to avoiding most of the rain and wind of the day. After a miserable night, you'd have been forgiven for skipping the weekly 5k run around the park (now I tell you all), but as it turned out, 9:30am was to be some of the best conditions we'd have all day. Armed with this knowledge, an Errigle of Dubs took to the paths:
Name
Time
Notes

Derry City

Ronan O'FLAHERTY
00:22:07
New PB!
Jane FRIEL
00:27:41

Victoria

Michael KIRK-SMITH
00:21:57
James SIMONS
00:23:32
Eimear PHAIR
00:26:30
Trevor MURPHY
00:27:41
Philippa MACLARAN
00:31:52
Jane PATTERSON
00:31:52

Queen's

James GUINN
00:23:52
James TRAINOR
00:24:09

Ormeau

Brian DERBY
00:19:41
John MCCULLAGH
00:20:01

Sligo

Kathy MAYHEW
00:26:06
Third Female!

Johnstown, Wexford

Marcella CASSIDY
00:22:29
Third Female!
Noel KELLY
00:22:29
Great going everyone – there might not have been much rain, but the wind was awful, so that really meant that we did more than 5k, anyone agree?! A few hat tips this week, third home at their respective events were Kathy (at Sligo) and Marcy (at Johnstown). Finally we had the one new course PB this week, set by Ronan (at Derry City)!
A final, final hat tip this week, because my spies weren't good enough, but our very own Jackie ran her 100th parkrun in the glorious surrounds of Wallace Park last weekend – and didn't even tell us so we could all come and run with her 🙁 there's always 101..!
Warmdown
As I said earlier, October is going to be a busy month for the club – so all I ask is for some (or lots) of photos for the roundup and the gallery.  Also, if you're doing a small or random race that I might miss – drop me an e-mail and let me know please!  Yesterday, I took a pheasant, a group of badgers and something to light a fire to my local tennis club.  It was game, set and match.
Keep on running!
Live long and prosper.
Disclaimer: Every effort was taken to ensure the results above are correct (I'm getting towards holiday mode again). If you'd like to make a complaint then you'll automatically volunteer yourself for writing duties next week 🙂