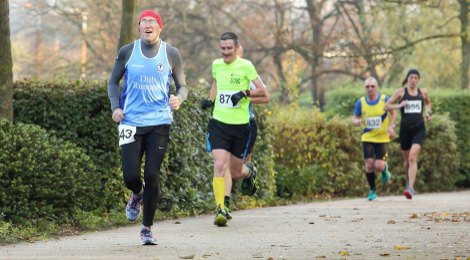 Some night time running and two 5k runs this week – more over the jump!
Warmup
Good afternoon folks! All being well, normal service will resume this evening, our Tuesday sessions have been effected by the traffic last week, and who can forget the torrential downpours two weeks ago. Ah well, onwards and upwards – we'll have some club results for you in a moment. I am having a BBQ after training this evening, so I've sent my German friend out to get us some meat to cook – I'm not sure what she'll get, but I am expecting the worst.
Run in the Dark
You know November is here when the annual Run in the Dark takes place – when the folks on the hill become the runners on the hill! This year, there was a slight change to the course, the iconic and traditional hill remains, but instead of swinging left, this year participants dived to the right, and spiralled their way back to the entrance. We have two Dubettes on the line:
Pos
Name
Time
Notes

5k Race

1
James Trainor
00:17:07
First Male!

10k Race

149
Aine Hughes
00:46:31
---
Fantastic running in unseasonal, mild conditions by the two of you! In the 5k race James took the top step of the podium in impressive style. Aine took part in the double loop, and posted an impressive time over the 10k distance. Great running – though I was disappointed that there were no photos 🙁
NI Duathlon 5k
Preparations for the Seeley Cup continues apace over the weekend, Victoria park hosted the latest warm up race for one Dub. It was a cold, flat and (as usual) fast course:
| Pos | Name | Time | Notes |
| --- | --- | --- | --- |
| 9 | Steveb Todd | 00:18:51 | --- |
Magic running Steven – that is an impressive time, topped with a top ten finish AND it was a PB too! It was also your first race for the club as a Dub – and there's even a picture to prove it (above, as the featured image)!
parkrun
For anyone who thought that maybe the mild Autumn / Winter was going to continue – they were wrong. Pre-parkrun on Saturday (for me) was spent looking out the window and then at Facebook to see which, if any, events would be cancelled. So despite all that, it was great to see so many Dubbers out and about:
Name
Time
Notes

Victoria

Brian DERBY
00:19:29
Trevor MURPHY
00:52:56

Queen's

James TRAINOR
00:18:28
Third Male!
Suzy KENNEDY
00:23:51

Omagh

Eimear PHAIR
00:25:27
New PB!

Ormeau

Amy LAVERTY
00:23:46
Kathy MAYHEW
00:26:08
Jane Catherine PATTERSON
00:31:57
Philippa MACLARAN
00:31:58
New PB!

Antrim

Stephen IRVINE
00:21:17
New PB!
James GUINN
00:22:38
Newbie PB!
Nessa AGNEW
00:22:39
Second Female! New PB!
Roisin BYRNE
00:24:12
New PB!

Stormont

Ronan O'FLAHERTY
00:22:10
New PB!

Highbury Fields, London

Michael KIRK-SMITH
00:24:05
Newbie PB!
Fantastic running on very cold and frosty Saturday morning everyone! Our hat tips this week go to James T who was third home at the Queen's event, while Nesaa was second across the line at the Antrim event! We had new PBs set this week by Eimear (at Omagh), Philippa (at Ormeau), Stephen, Nessa and Roisin (all at Antrim) and Ronan (at Stormont). Finally, some newbie PBs were set this week by Michael (at Highbury Fields) and James G (at Antrim) who also set his all time 5k PB too!
Warmdown
I think we all know the big featured race this coming weekend – the Seeley Cup. So if you're not racing, why not get down to Ormeau Park (I stood in the rain last year) and get out cheering!! Oh and while you're there, why not take some photos for the club too please!! As it is getting nearer Christmas, I decided to give something back. So I donated a bucket and a length of rope to World Vision – they said it went down well.
Keep on running!
Live long and prosper.
Disclaimer: Every effort was taken to ensure the results above are correct (we've had some snow, is it Christmas yet?!). If you'd like to make a complaint, then you'll automatically volunteer yourself for writing duties next week 🙂