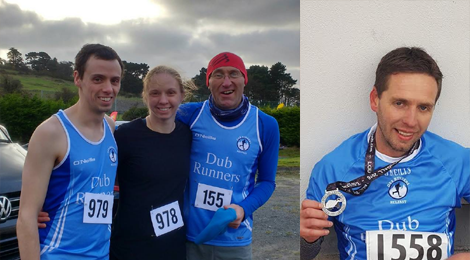 There's a cancellation, two 10k races and a parkrun over the jump!
Warmup
We might be edging closer to the end of the year – but that's not stopping us running. Thanks to all my spies who worked hard this week to keep me updated on all the latest happenings – we couldn't do this without you all! Could you spare a thought for my mother-in-law? She was taken to hospital this morning – a bee landed on her face. Luckily she wasn't stung, I was too quick with the spade. Okay, the results:
Málaga Marathon
While most of us have trained towards and then participated in various marathons over the years, we've always had those last minute thoughts of 'I wish this was cancelled'. Sadly, for our intrepid crew of Dubbers, at 11:30am on Sunday morning, the Maliga Marathon was cancelled due to safety fears with the flooding. Of course, that didn't dampen the spirits of Anna, Brian, Heather, Kate and Mark H who were all at the start line, in hopeful anticipation of the event:
Run Forest Run: Loughgall 10k
We've reached the third (already!!) race in the series, as it moved to the Armagh for its latest jaunt. Taking in Loughgall village itself, before entering Loughgall Estate and the trail paths around the golf club (I pity any golfers out at the time of the race) for the scenic 10k course. We had one Dubber in the field:
| Pos | Name | Time | Notes |
| --- | --- | --- | --- |
| 28 | Jim Simons | 00:41:34 | --- |
Great running Jim – and another race in the series ticked off the list for you. I hope that you enjoyed the post-race refreshments which I hear were pretty good! Next up, the last one before Christmas on December 17th is Kilbroney.
Griddle 10k
Stick with me here folks. We all know it was a cold weekend, so a bunch of Dubs decided to see if it really does get warmer the further south you go – by visiting tropical Downpatrick! billed as County Downs most challenging 10k road race, was a course of hills on top of hills with the finish at the top of another hill! Mix that with extremem colds and, well, you've got yourself a tough run. Luckily, we had four brave club members taking part:
| Pos | Name | Time | Notes |
| --- | --- | --- | --- |
| 2 | James Trainor | 00:36:06 | --- |
| 10 | Neil Curran | 00:40:02 | --- |
| 13 | Steven Todd | 00:40:33 | --- |
| 76 | Suzanne Kennedy | 00:51:48 | --- |
That was great running all round there, in what I hear was on of the toughest 10k races of the year, and a real too. Amazing results posted, and great to see James T (on the podium, had he attended the ceremony!!) and Neil both taking top ten positions – with Steven and Suzi not too far behind them at all. Home for a nice warm brew after that one me's thinks!
parkrun
With a heavy rain shower fast approaching, it was a case of 'let's get this over as fast as I can' for parkrun on Saturday morning. As the Dubs took to the various parks to have another go at their favourite 5k routes:
Name
Time
Notes

Victoria

Brian DERBY
00:19:50
Kathy MAYHEW
00:25:15
Trevor MURPHY
00:29:07

Queen's

James GUINN
00:22:43
New PB!

Ormeau

Nessa AGNEW
00:25:15
Roisin BYRNE
00:25:16

Bangor

Ronan O'FLAHERTY
00:22:34
New PB!

Stormont

John BOYLE
00:22:58
New PB!
Down on numbers a little bit from the usual – but great times from everyone running on Saturday morning (the real achievement is just getting out of bed in time for it!). Hat tips this week were all new course PBs set by James G (at Queen's), Ronan (at Bangor) and John (at Stormont).
Warmdown
Christmas party this coming weekend – hope to see you all there. Don't forget, if you can't make it for the meal, you can still come for a drink (before and after, we're not picky!!) And why not kick off your Saturday in style with a little parkrun?! My missus was devastated to find out that all my mates call me "The Love Machine" but only because I'm terrible at tennis.
Keep on running!
Live long and prosper.
Disclaimer: Every effort was taken to ensure the results above are correct (Christmas party week!!!). If you'd like to make a complaint, then you'll automatically volunteer yourself for writing duties next week 🙂