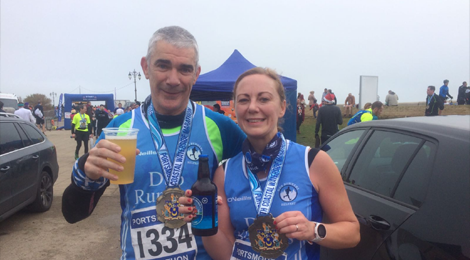 Phew! Lots and lots and lots of results to get through over the jump!
Warmup
Well, after getting a little rest week, the club was well and truly back at the races over the past week. More on that soon, but I wanted to tell you all about a strange dream I had last night about drowning in an ocean made out of orange soda last night. It took me a while to work out it was just a Fanta-sea. Now then, the results:
Run Forest Run: Kilbroney 10k
The fourth and final race in the series before Christmas, as the series moved to Rostrevor for the most recent race. Kicking off in the Village Square, and skirting around the caravan park on the edge of the forest park. We had one Dub in the field:
| Pos | Name | Time | Notes |
| --- | --- | --- | --- |
| 267 | Jim Simons | 01:00:52 | --- |
That is some great running Jim – who's fast becoming a regular racer in this trail series! A cracking time over a tough course – taking some great momentum into the Christmas break in the races. Tollymore is next up on the 7th January!
Cavehill 5 Mile Run
Five miles sounds too short a way to describe Sunday's run – it doesn't sound so bad does it?! There were perfect conditions on the crazy steep Cavehill. The strong crowd, included quite a few people on the start line who looked like they knew what they were doing, including four Dubbers:
| Pos | Name | Time | Notes |
| --- | --- | --- | --- |
| 3 | Richard Conn | 00:39:10 | --- |
| 10 | Steven Todd | 00:40:41 | --- |
| 14 | James Trainor | 00:42:02 | --- |
| 96 | Clare McDowell | 01:03:03 | --- |
Great running folks, on a tough course, everyone returning with their sanity intact! Richard taking a well-deserved podium in 3rd, James going incognito and running over from home first (and not listed as Dub (tut, tut). Great also to see Clare back racing and even Steven admitted that he'd give the race another go next year!!
Portsmouth Coastal Waterside Marathon
So you remember that the Málaga Marathon was cancelled a few weeks ago, right? It was going to be a lovely marathon route, mostly flat, in the 20-ish degree heat of early December. So, obviously, the most logical replacement marathon for this was go to Portsmouth, mid-December and take on a trail marathon!! The out and back in course, runs along the coastline – and around Portsmouth Harbour too. We had two Dubs tackling the scenic course:
| Pos | Name | Time | Notes |
| --- | --- | --- | --- |
| 245 | Kate Moffet | 03:44:07 | New PB! |
| 245 | Brian Grimes | 03:44:07 | --- |
Woah – fantastic running by the two of you, and great to see that you stuck beside each other over the entire 26.21 miles. Now, not only can you enjoy your Christmas dinner a little bit more, but Kate also managed to knock a MASSIVE 9 minutes off her marathon personal best time – and that was on a trail course!! No marathon report would be complete without a photo of our intrepid racers enjoying the post-race festivities:
parkrun
Another icy morning and whispers of "will this be cancelled?!" sweeping the parks on Saturday morning. A freezin' morning met participants (it was colder than most expected it to be), with some of the more country based events cancelled, most of the city based events went on ahead, if a little later than planned. We had a great crowd of Dubbers out there:
Name
Time
Notes

Waterworks

Ronan O'FLAHERTY
00:23:02
New PB!
Kathy MAYHEW
00:26:23
New PB!

Victoria

Brian DERBY
00:19:37
Michael KIRK-SMITH
00:22:46
Trevor MURPHY
00:37:52

Queen's

Karen CARLISLE
00:24:29

Ormeau

James DICKEY
00:19:58
New PB!
Paul MCCREA
00:25:03
Jane PATTERSON
00:30:11

Colin Glen

Frances MC CAMBRIDGE
00:28:38
Well done everyone, slightly down in numbers from last week, but the weekly events are always popular with members of the club. Just three hat tips to get through this week, all new course personal best times being set. At the slightly icy Waterworks event by Ronan and Kathy and James (at Ormeau).
Warmdown
Of course, this week we ran the, now famous, Christmas Market Run. The run, which is more social than our standard Thursday fare, saw a great turnout from the club – as you can see for yourselves:
As we approach the Christmas holidays, it might get a little harder to find out details of races – so please keep me informed in case I miss out on anything. For anyone who is really eager, there are some Christmas Day and New Year Day parkrun events planned – you can find the full list on the Christmas Compendium webpage on the pakrun website. Over the weekend I used some of girlfriend's deodorant to pay for a scarf at the barter market – it was a bit of an Impulse buy.
Keep on running!
Live long and prosper.
Disclaimer: Every effort was taken to ensure the results above are correct (this weekend is Christmas!!!). If you'd like to make a complaint, then you'll automatically volunteer yourself for writing duties next week 🙂