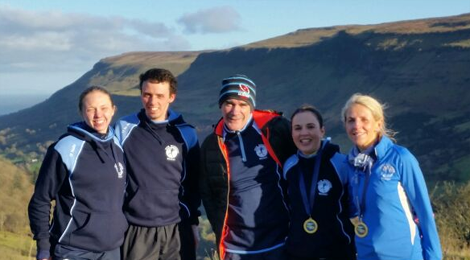 We go Over the Glens and have two parkruns from the club this week over the jump!
Warmup
Happy New Year – welcome to the first roundup of the brand new year! Let's dust off the miles of 2016 and leave them in the past. It's time to set the goals for 2017 and kick-start the new year training with renewed energy! Oh yes, a gentle reminder to anyone who got a book from me as a Christmas present – they're due back in the library on Wednesday. Now, the results…
Marcothon
Massive congratulations to Marcella Cassidy who completed the Marcothon during December. She participated by completing one run a day, every day during the month of December. For those unfamiliar, the challenge started in 2009 when Marco Consani challenged himself to run every day in November which inspired his wife Debbie to follow suit the next month!
Race Over the Glens
If the thought of having a little more turkey and ham was unappealing on the first Bank Holiday of the new year, then an undulated course kicking off in Glenariff Forest had to be on the to-do list! With some icy conditions under foot and a big decent into a valley followed by a "massive climb" back up again. We had some supports and four Dubs out on the course:
| Pos | Name | Time | Notes |
| --- | --- | --- | --- |
| 6 | James Trainor | 00:39:46 | --- |
| 126 | Brian Grimes | 00:51:00 | --- |
| 172 | Roisin Byrne | 00:55:13 | --- |
| 202 | Nessa Agnew | 00:57:01 | --- |
Fantastic running everyone – on a tough, tough course! I know that the thought of doing these races is sometimes worse than the run itself, but you all posted amazing times. Anyone know why there was a bag piper out on the course?! Thanks for the lovely snap of all the Dubs present at the top of the page!
New Year's Eve parkrun
As 2016 drew to a close, there was still time to fit in one last parkrun of the year. With the unseasonably warm weather continuing, and over indulgences of turkey still fresh in our minds – we took to the parks for the final time:
Name
Time
Notes

Victoria

Brian DERBY
00:19:21
Michael KIRK-SMITH
00:22:50
Trevor MURPHY
00:39:36

Queen's

James TRAINOR
00:23:27
Suzy KENNEDY
00:23:28
Third Female!
James GUINN
00:24:36

Wallace

Paula OWENS
00:29:27

Enniskillen

Richard CONN
00:18:06
First Male!
Eimear PHAIR
00:26:16

Limavady

Ronan O'FLAHERTY
00:21:33
New PB!

Colin Glen

Steven TODD
00:20:07
Second Male! New PB!
Jackie ROBINSON
00:33:53

Sligo, Ireland

Kathy MAYHEW
00:26:36
Third Female!
Let's tip our hats for the last time in 2016 to Richard who was first home at the Enniskillen event, second home was Steven at the Colin Glen event and we had Suzy and Kathy third across the line at the Queen's and Sligo events. Some new PBs were set on the last day of the year by Ronan (at Limavady) and Steven (at Colin Glen).
New Year's Day parkrun
As 2017 dawned, so did the prospect of completing two parkruns before the first official parkrun of the year. A special double header of Stormont followed by the option of Ormeau or Waterworks was allowed as a one-off treat. With "Auld Lang Syne" still ringing in our ears, the warmest day of the year so far awaited the club members:
Name
Time
Notes

Stormont (09:30 Start)

Steven TODD
00:20:03
Newbie PB!
Ronan O'FLAHERTY
00:22:33
Nessa AGNEW
00:23:46
Eimear PHAIR
00:26:33
Trevor MURPHY
00:27:46
New PB!
Philippa MACLARAN
00:30:17
Newbie PB!

Waterworks (11:00 Start)

Steven TODD
00:20:58
Newbie PB!
Eimear PHAIR
00:28:39
Newbie PB!
Maureen OLIVER
00:28:52

Ormeau (11:00 Start)

Brian DERBY
00:19:41
Collette MCCOURT
00:19:52
First Female! Newbie PB!
Heather BARON
00:22:22
New PB!
Ronan O'FLAHERTY
00:22:23
Kate MOFFETT
00:22:51
Ryan LOVE
00:24:06
Nessa AGNEW
00:24:15
Peter DONNELLY
00:24:22
New PB!
Philippa MACLARAN
00:31:41
New PB!
Let's give out the first hat tips of 2017 to Collette who was first home at the Ormeau event. We even had some new PB times set by Trevor (at Stormont) and Heather, Peter and Philippa (at Ormeau). We had a few newbie course PBs set by Steven (at Stormont and Waterworks), Philippa (at Stormont), Eimear (at Waterworks) and Collette at (Ormeau). Finally, well done to a select few who completed the double header, running the two parkrun events on Sunday morning: Steven, Ronan, Nessa, Eimear and Philippa – give yourselves an extra pat on the back!
Warmdown
2016 claimed one final victim, my uncle worked at the Nestle factory and was seriously injured when a pallet of chocolate fell more than 50 feet and crushed him underneath – he tried in vain to attract attention, but every time he shouted "The milky bars are on me" everyone cheered!
Keep on running!
Live long and prosper.
Disclaimer: A little effort was taken to ensure the results above are correct (we were on a break!!). If you'd like to make a complaint, then you'll automatically volunteer yourself for writing duties for the rest of 2017… it isn't that long is it?! 🙂