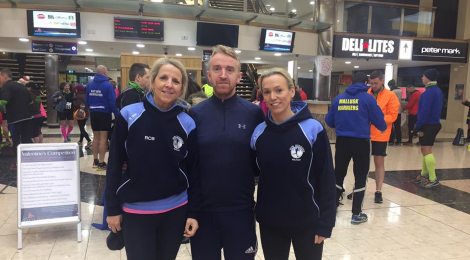 Cross-country, Red Dress run, duathlon, half marathon and parkrun all over the jump!
Warmup
Mid-February is my marker – that is when the road racing season begins again and my life gets a lot tougher!! Lots and lots of club action to go through this week, but I need to tell you about my accomplishment. A word I invent has made it into the Oxford English Dictionary – what's the word? Plagiarism. Right then, the results:
Derriaghy XC
I left this out last week, but one member of the club has a policy of doing some of the smallest events around! The Derriaghy XC is mainly a 'Jog Lisburn' event, where they successfully found the wettest and hilliest fields to run it. The five lap race, equated to just over 3 miles – let's see how Steven got on:
| Pos | Name | Time | Notes |
| --- | --- | --- | --- |
| 3 | Steven Todd | 00:27:24 | --- |
Magic running once again from Steven – third place with a trophy – excellent. Not to mention, I believe that this is the first time you placed on the podium too! One deservedly happy runner on a Friday evening!
Red Dress Run
The NI Chest, Heart and Stroke foundation staged a 'Red Dress' run in Stormont Estate (held after the parkrun to avoid confusion). There were options of a 5k and 10k event around the grounds, taking in some of the traditional parkrun route mixed with skirting around the perimeter of the estate.
There was no official timing at the event, so let's tip our hats to Roisin Byrne, Jane Patterson and Vicky Orr in acknowledgement of their support of this fantastic charity. Roisin kindly sent on this photo too of the new Dub hat being proudly worn:
Bishopscourt Duathlon
Downpatrick played host to the latest race in the Duathlon series. With the freezin' forecast only eleven (yes, 11) turned up – and only 9 ended up placing. The race was one 5k run, followed by a 20k cycle topped with another 3k run around the Bishopscourt race track. We had one brave Dub on the start line:
| Pos | Name | Run 1 | Cycle | Run 2 | Finish |
| --- | --- | --- | --- | --- | --- |
| 7 | Anna McArdle | 00:14:47 | 00:39:13 | 00:15:33 | 01:10:52 |
Fantastic racing Anna – another Duathlon under your belt! Let's not mention the eventful jog up Slieve Donard the day before (eh, Kate?!). Mix all that in with that lovely warm weather had on Sunday and you had the recipe for a race not to forget. Shame some of the other Dubs 'forgot' to turn up!! 🙂
Mallusk XC
Fresh (ha) from his torturous angry country running last week (or earlier in this roundup), Steven went a bit bonkers on another XC race. This time a mostly flat course in Newtownabbey was the venue, with 4 degrees and hailstones thrown in for good measure. Let's see how he got on:
| Pos | Name | Time | Notes |
| --- | --- | --- | --- |
| 11 | Steven Todd | 00:26:00 | --- |
Great running Steven – you're fast becoming the XC master of the club with all these results! Steven's own summation of the course was simply put in one word – tough. Also, I know I said it was positive 4 degrees earlier, but let's be fair, it was more like minus 4 degrees when you were running. We hope you got in quickly and got a nice warming beverage in your hands as quick as possible!
DUNE Half Marathon
The half marathon season kicked off in style this weekend with the annual run between Newry and Dundalk. For those unfamiliar, its three miles uphill – then it levels off for a more bearable finish (just be thankful it wasn't the same route as the first year). We had three intrepid club members on the start line:
| Pos | Name | Time | Notes |
| --- | --- | --- | --- |
| 237 | Richard Donald | 01:43:17 | --- |
| 260 | Roisin Byrne | 01:44:24 | --- |
| 322 | Paula McCourt | 01:48:00 | --- |
Fantastic running folks – that course is not easy at the best of times – add to that just how Baltic and windy it was on Sunday morning – those are great times! Plenty of time to rest up, get a cuppa and put the feet up. Always nice to get a photo, and it is at the top of the page too!
parkrun
If your head wasn't too sore from the Foyle Hospice fundraising pub quiz, raffle and live band music – then why not jump up out of bed and head for a 5k jog around your local park. There was a smattering of Dubs out there:
Name
Time
Notes

Victoria

Michael KIRK-SMITH
00:22:49
Trevor MURPHY
00:39:34

Ormeau

Ronan O'FLAHERTY
00:22:45
Roisin BYRNE
00:23:24
Karen CARLISLE
00:24:16

Stormont

Pippa MACLARAN
00:29:57
New PB!

Colin Glen

Eimear PHAIR
00:26:19
New PB!

Sligo, Ireland

Kathy MAYHEW
00:25:20
New PB!
A great way to kickstart the weekend – well done everyone. Not an easy choice so early on a Saturday morning!! Our hat tips this week are all brand spanking new PBs set by Pippa (at Stormont), Eimear (at Colin Glen) and Kathy (at Sligo)!
Warmdown
…and we're done! With some of the more popular races coming up (I'm looking at you Carlingford), could we try and get some snaps and get our 2017 galleries (yes, I am being forward thinking and using the plural) up and running! In other news, I am very proud of myself, as over the weekend, after my parkrun, I put on a theatrical performance about puns – it was a play on words.
Keep on running!
Live long and prosper.
Disclaimer: Every effort was taken to ensure the results above are correct (I'm cold this week!!). If you'd like to make a complaint, then you'll automatically volunteer yourself for writing duties next week 🙂