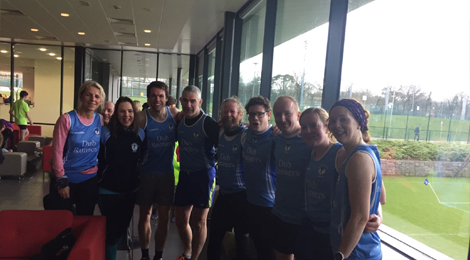 There's flashmobs, forest runs and the parkrun over the jump!
Warmup
We have a jam packed bumper edition of the roundup this week. We've all been upping the ante ahead of the road racing seasons bringing in earnest next weekend. Reflecting on life during the week, I got thinking about the guy who threw the first boomerang… I bet he didn't see that coming. Right then, who wants to see what we've been up to?!
Sunday Run
It would be remiss of me not to mention the Sunday runners. Yes, there is a bunch of club members of who meet on a Sunday at Cutters and take on the double rollercoaster route through the forest for a lovely, gentle 6 mile run.
For anyone who dared to look out the window on Sunday, you would have seen the torrential downpour as a smaller than usual pack of drowned rats went out in those awful conditions. At least you don't have one lense of your glasses steaming up!
Flashmob parkrun: Queen's
Our second monthly club parkrun event was held on Saturday morning. The club descended on our natural home at the Dub Pavilion for the fifth anniversary running of the parkrun event around the grounds. Despite the wind and chilliness of the morning – we had an Errigle of Dubs take to the start line:
| Name | Time | Notes |
| --- | --- | --- |
| James TRAINOR | 00:17:50 | First Male! |
| Richard CONN | 00:17:57 | Second Male! |
| Brian GRIMES | 00:21:29 | Newbie PB! |
| Brian DERBY | 00:21:59 | |
| Collette MCOURT | 00:22:57 | |
| Ronan O'FLAHERTY | 00:22:58 | New PB! |
| Jim LARKIN | 00:22:59 | |
| Roisin BYRNE | 00:23:06 | New PB! |
| Suzy KENNEDY | 00:23:25 | |
| Michael KIRK-SMITH | 00:23:43 | |
| Karen CARLISLE | 00:24:54 | |
| Paul MCCREA | 00:25:24 | New PB! |
Magic running everyone, some amazing times posted. We have some club beanies to tip towards to James T and Richard who were first and second across the line. We also had some new source PBs set by Ronan, Roisin and Paul. Finally, one newbie PB was obtained by our illustrated leader – Brian G. We also had Nessa step up and move closer to her volunterring t-shirt as she took on traffic duties in the main carpark! Of course, you couldn't get an Errigle of Dubs together without the chance for a photo opportunity:
Run Forest Run: Castlewellan 10k
The final race in the Born2Run's Run Forest Run series took place in Castlewellan. The club had two entrants in the 10k race which consisted of a loop around Castlewellan Lake, around the perimeter of the park before heading back to the lake a one-mile sprint to the finish. Let's see how our guys got on:
| Pos | Name | Time | Notes |
| --- | --- | --- | --- |
| 40 | Jim Simons | 00:44:12 | --- |
| 42 | Andrew Noble | 00:44:16 | --- |
Great running folks, fantastic times posted, and a nice close race at the end between the two of you for the finish. Well done also to Jim S who completed enough of the races to qualify for the series t-shirt as well. Not to leave anyone out, Andrew N kindly supplied me with a photo too:
parkrun
So, we can't forget that some of us couldn't make the flashmob event, that there a still other events running! I am not sure about the local events, but I am reliably informed that the Sligo event was ducking and diving through massive, freezing cold puddles. Let's have a look at how everyone got on:
Name
Time
Notes

Victoria

#colpsan#
Trevor MURPHY
00:27:19

Ormeau

#colpsan#
Mark MCGOWAN
00:20:59
Rachel BOLT
00:24:51

Colin Glen

#colpsan#
Brian CONEY
00:25:02

Sligo

#colpsan#
Kathy MAYHEW
00:25:47
That's it, some powerful running by each and every one of you. No individual hat tips for anyone in the table this weekend, so let's just tip our hat to all of you!!
Warmdown
Nice wee roundup this week, plenty of pictures. I'm looking forward to the gallery for next weekend's Carlingford Half Marathon that you're all going to send me – right?! Did I tell you all that just before Christmas I got the chance to interview Elton John while he was in Belfast for his tour? We had a great conversation about lots of things, I know it'd been a few years since he was last here so I asked him "What do you think of County Down?" "Well, it's really good" he told me "but between you and me – I preferred it with Carol Vordenman".
Keep on running!
Live long and prosper.
Disclaimer: Every effort was taken to ensure the results above are correct (I am too cold after the Sunday run). If you'd like to make a complaint, then you'll automatically volunteer yourself for writing duties next week 🙂