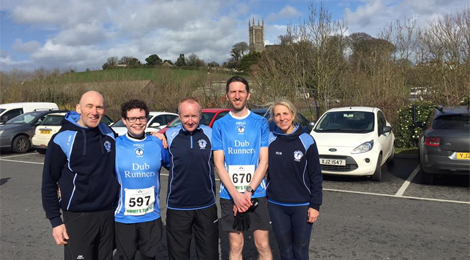 It's all about Jimmy and the parkrun (and a correction) this week over the jump!
Warmup
Well, it's a bit nice out there at the minute isn't it?! Spring is in the air and we're tantalisingly close to heading back out on our fairer weather routes! Quite a bit of club news and craic to get to this week, but before an update on the missus (because we've not had one in a while). She is on one of those fad diets – the cupboards are full of tropical food stuff. It's enough to make a mango crazy. Okay, shall we take a look at what we've been doing?
WCM 10 Mile Road Race
A race I forgot about in the mountain of results I had to get through last week. The yearly warmup race for the Walled City Marathon took place last Saturday in fantastic conditions in the North West. The ten-mile route with the first quarter rather hilly taking in the Foyle Bridge, flattens out for a steady run along the River Foyle (including past a few coffee shops) before finishing after a trip over the iconic Peace Bridge. We had one Dub taking part in the race:
| Pos | Name | Time | Notes |
| --- | --- | --- | --- |
| 256 | Laura McGill | 01:30:59 | --- |
Fantastic running Laura – that is a challenging course with a hill right at the beginning. I've seen some photos from the event and it looked like there was a great atmosphere around the course and at the finish line! Thankfully this race was on a Saturday morning – so plenty of the weekend left over to relax!
Jimmy's 10k
With a sell-out crowd of just over one thousand descending on Downpatrick for the annual Jimmy's 10k run there was bound to be a few Dubs in the mix! The hilly-to-start then scenic course run mostly on roads (there's a random 2k stretch on a trail path) took place in ideal conditions on Sunday morning with some eager Dubbers on the start line:
| Pos | Name | Time | Notes |
| --- | --- | --- | --- |
| 65 | Neil Curran | 00:38:33 | --- |
| 101 | Jim Larkin | 00:40:38 | --- |
| 204 | Alastair King | 00:44:37 | --- |
| 223 | Steven Todd | 00:45:37 | --- |
| 225 | Ronan O'Flaherty | 00:45:39 | New PB! |
| 311 | Roisin Byrne | 00:48:42 | --- |
Fantastic running folks – those are some great times as well! A small hat tip to Ronan who set his new 10k PB by over 2 and a half minutes! There were plenty of laughs on the day trip, with lots of photos taken too, and you can see a selection of these in our Jimmy's 10k gallery, including this one that I got a lot of stick for:
parkrun
With the overnight downpours, it would have been extremely tempting to turn over in bed and go back for a second sleep (how great are second sleeps?!) A smaller than usual group of Dubs were brave enough to venture out into what became a (reasonably) nice morning and go for a jog around their local parks:
Name
Time
Notes

Victoria

Karen CARLISLE
00:23:45
New PB!

Queen's

James TRAINOR
00:19:31

Ormeau

Noel KELLY
00:18:41
Newbie PB!
Marcella CASSIDY
00:26:06
Roisin BYRNE
00:26:07
Ronan O'FLAHERTY
00:26:08

Sligo, Ireland

Michael KIRK-SMITH
00:22:23

Durham, England

Trevor MURPHY
00:28:22
Nice going everyone – and some awesome times posted too. We have some hat tips this week to go out to Karen (at Victoria) who set a new course PB. We also tip it for Noel (at Ormeau) who set a newbie PB and just missed out on a spot on the podium at his first outing around the park!
Warmdown
A big weekend for the club is coming up with the Craic 10k and the Larne Half Marathons all being raced – so I want to be sent plenty of photographs, deal?! Some personal news to finish with this week, and I hope that you will all wish me good luck as I begin a new job in Seoul next week – I hope it is going to be a good Korea move for me.
Live long and prosper.
Disclaimer: Every effort was taken to ensure the results above are correct (my legs hurt after Sunday!!). If you'd like to make a complaint, then you'll automatically volunteer yourself for writing duties next week ??