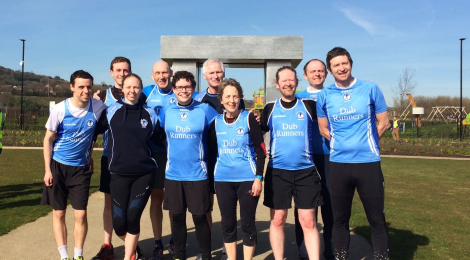 Flashmob and 'normal' parkruns all over the jump!
Warmpup
I love these weeks: a return to our 'summer' training plans, the evenings getting longer and a nice short roundup to compile! It's all about the parkrun this week, but more on that a little later. I have to admit that I am devastated, my pet mouse Elvis died last night – he was caught in a trap.
Flashmob parkrun: Valley
Our new monthly event is fast becoming a favourite in the club – and this weekend who could blame you! With the sun splitting the sky a group of eager Dubs made the more northern leap out the M2 a little for our latest parkrun adventure:
| Name | Time | Notes |
| --- | --- | --- |
| James TRAINOR | 00:18:49 | Second Male! Newbie PB! |
| Steven TODD | 00:18:50 | Third Male! Newbie PB! |
| Andrew NOBLE | 00:20:45 | Newbie PB! |
| Michael KIRK-SMITH | 00:23:20 | Newbie PB! |
| Suzy KENNEDY | 00:24:08 | Newbie PB! |
| Aaron NAGAR | 00:24:42 | Newbie PB! |
| Paul MCCREA | 00:25:16 | Newbie PB! |
| Ronan O'FLAHERTY | 00:25:18 | |
| James GUINN | 00:27:01 | Newbie PB! |
| Jane PATTERSON | 00:30:13 | Newbie PB! |
So a new venture for most of the ten Dubs who set off for the far reaches of Newtownabbey on a gorgeous Saturday morning. Newbie PBs set all round, and a special new parkrun 5k time set by Steven. Let's not forget taking the second and third steps on the podium at our first outting around the course too! Finally, can I say a massive thank you to organisers of Valley parkrun who gave us a warm welcome and even invited us back!! In April we'll be setting a course for Falls at the end of Easter week – so mark your calendars!
parkrun
If the weather is usually your excuse for missing out on your Saturday morning running fix, then this weekend you had absolutely no reason to be out and about (unless you had long run training to do). Due to the flashmob event, a smaller than usual group of Dubs headed to their local parks for run:
Name
Time
Notes

Derry City

James DICKEY
00:19:25
New PB!

Victoria

Trevor MURPHY
00:43:21

Queen's

Karen CARLISLE
00:24:10
New PB!

Falls

John MCCULLAGH
00:21:29

Sligo, Ireland

Kathy MAYHEW
00:25:35
Second Female!

Franschhoek, South Africa

Pippa MACLARAN
00:31:46
Newbie PB!
Great running everyone – and what a morning for a nice run too! We shall tip our hats this week to Kathy who was second home at the Sligo event. Also two new course PBs set this week by James D (at Derry City) and Karen (at Queen's). Finally, we have one last newbie PB, and it is our intrepid traveller Pippa (at Franschhoek)!
Warmdown
I'm not shouting about having a quiet week, because I know what is ahead!! Please remember to take lots of photographs!! Apologies if I am a little cranky later on, my neighbour kept me awake last night playing the same Lionel Ritchie song over and over at full blast. I wouldn't mind normally, but it was all night long.
Live long and prosper.
Disclaimer: Every effort was taken to ensure the results above are correct (I was enjoying the weather this weekend!). If you'd like to make a complaint, then you'll automatically volunteer yourself for writing duties next week 🙂