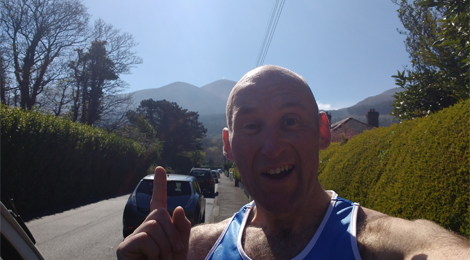 There's a race up Donard, a 10k of Titanic proportions and a run in the park over the jump!
Warmup
So, in the past week we've been working hard behind the scenes getting the entries for the Giant's Trail Race 2017 online – so make sure that you don't forget to tell your friends how awesome the race is! Before we look at the results, I must tell you about something very disturbing happened to me. I rang the police last night to report a murder at my house – they weren't happy to see a group of crows on my front lawn. So, the results:
Donard Challenge Fell Race
Slieve Donard the highest peak in Northern Ireland – at only 850m high – seems like an ideal place for a run… said Steven! Fell running (not to be confused with fall running), I am reliably informed is just as painful coming down as going up. With a large UK contingent, as part of the British Championship the route was described as a short, testing race – and boy was it testing:
| Pos | Name | Time | Notes |
| --- | --- | --- | --- |
| 160 | Steven Todd | 01:23:48 | Machine |
I think I speak for everyone in the club when I say "Woah!" amazing running Steven, even writing about the race is making me tired. Despite it being a sold out race of 300 entrants, only 255 of you made it to the finish, and even the announcer commented that they don't get many Dubs at this race – I can't think why! As if running a race up Donard wasn't daunting enough, Steven very kindly forwarded on a few photos for a gallery of the race – including the preview image at the top! Fair advanced warning: this does not look easy if you're considering it for next year…
Titanic Quarter 10k
It was all a ploy, finishing the Craic 10k last month in the Titanic Quarter to give you a taste of what the annual Titanic Quarter 10k route is like. This is race course, all flat, around the newly redeveloped docks area. Despite the flatness of the course, with the proximity to the sea, there's always a breeze causing a knock on effect. We had a few Dubs hoping not to sink:
| Pos | Name | Time | Notes |
| --- | --- | --- | --- |
| 21 | James Trainor | 00:35:07 | --- |
| 74 | Brian Darby | 00:39:01 | --- |
| 75 | Noel Kelly | 00:38:52 | New PB! |
| 215 | Aine Hughes | 00:45:51 | --- |
| 251 | Graeme Colhoun | 00:47:20 | --- |
| 273 | Roisin Byrne | 00:47:49 | --- |
Well that was a bit of a fast race!! Nice running by each and every one of you – great and impressive times posted by all the Dubs. Let's take a moment to tip our hats to the Dub Runners very own goalkeeper and ginger rocket – Noel – who only went a ran a personal best of the distance! Also well done to Friend of the Dubs Niall Porter who ran the race in 00:45:51! Check out our collection of photos from Marcy and Steven right here, plus this awesome preview picture:
parkrun
It has become a bit of a tradition to have a bit of a moan about the weather in this segment, so for once I am going to be positive say – did you see that?! Saturday morning was a day for jumping out of bed and going for a run, and where better to go than your local park (or not so local in my case). Due to the good weather, we had a smaller than might've been expected turnout:
Name
Time
Notes

Victoria

Kathy MAYHEW
00:25:15
Jane PATTERSON
00:27:28

Ormeau

Karen CARLISLE
00:24:00
Tara THOMPSON
00:24:19
Nessa AGNEW
00:27:35

Finsbury

London
Michael KIRK-SMITH
00:23:38

Falcarragh

Ireland
Ronan O'FLAHERTY
00:23:16
Newbie PB!
Nice running everyone, that was a morning for just getting out there and enjoying the company! Do we get bonus points for dressing up as bunny rabbits next week?! Only one hat tip this week, and it goes out to the deplorable Ronan for setting a newbie PB at the Falcarragh event! Speaking of this weather, sure wasn't it dam fine weather for a wee parkrun selfie in the back of beyond in Donegal?!
Warmdown
Easter week incoming, and there's always a few special events happening, so if you are taking part, even send me through a wee selfie to put in the roundup! I had to go and visit the doctor today, and told him that "every night I have the same dream. At first I'm a tepee and then I'm a wigwam. Any ideas what's wrong with me?" He looked at me very seriously and said "I think I know your problem – you're two tents."
Live long and prosper.
Disclaimer: Every effort was taken to ensure the results above are correct (give me a break, I had a wee weekend away!). If you'd like to make a complaint, then you'll automatically volunteer yourself for writing duties next week 🙂