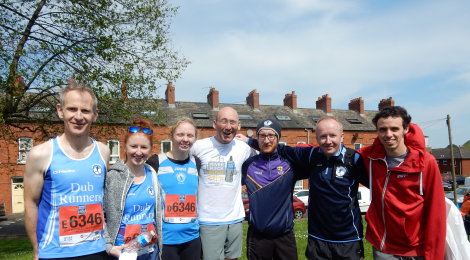 Hill & Dales, a windy 10k and a sunny Belfast Marathon and more over the jump!
Warmup
For those of you, who don't know I used to present my own radio show, and it became a bit of a tradition to open my first show in May with this track (especially when the weather was good)! Another week, and another bank holiday – and some stonking great weather. We'll get to the results in a moment, but we have some Sad news to report today, if you were wondering why the inventor of the throat lozenge wasn't running the Belfast Marathon as promised it was because her has died – there will be no coffin at his funeral. Results time:
Hill & Dales, Race 3: Slieve Martin
While the club was doing its own version of Hill & Dales we had two Dubs doing the real thing at Slieve Martin. Despite the best efforts of the weather earlier in the week, it turned out to be a lovely evening with good clear conditions. Instead of describing what the 4.1 mile route was like, you can have a look for yourself. Two hearty Dubs took part:
| Pos | Name | Time | Notes |
| --- | --- | --- | --- |
| 102 | Jim Larkin | 00:47:25 | --- |
| 139 | Bernadette O'Kane | 00:49:53 | --- |
Not an easy race at all folks, excellent running. The single file nature of the path, mixed with the terrain made this an enjoyable if slightly frustrating race at times, but still those are times to be very, very happy with! The next event takes place on Star Wars Day – this Thursday, May 4th – in Binnian. As has become tradition now, a post race photo of all the Dubs is taken:
Ibiza Half Marathon
Now this is what I call a location for a half marathon!! Kicking off in the highs of Sant Josep de sa Talaia at 200m above sea level, the mostly Spanish coastline route sweeps around in a semi-circle taking runners (mostly) downhill and into Ibiza. We had one Dub on the course:
| Pos | Name | Time | Notes |
| --- | --- | --- | --- |
| 801 | Anne Marie Ryan | 02:24:41 | --- |
Nice running Anne Marie, and a fantastic tine too! Cracking conditions on the day, and what appeared to be a nice enough course too! We hope that after the run, in the true tradition of Ibiza, that you had an early and quiet night…. YEAH RIGHT!
North West 10k
Ah sure Letterkenny wasn't built on a hill was it? Famous last words as the starting gun went off to start the massive annual race in Donegal. The well supported route features hills with flats along industrial estates – and not forgetting taking in the sights of Main Street! We had two Dubs crossing the border:
| Pos | Name | Time | Notes |
| --- | --- | --- | --- |
| 245 | James Sheridan | 00:47:45 | --- |
| 298 | Ronan O'Flaherty | 00:49:02 | --- |
Great running guys, both sub-50 minutes – so achievement boxes ticked. The heat on the not-so-windy sections of the route was stifling, while the wind on the exposed areas slowed the participants down. Home afterwards for some relaxation and Sunday dinner, but not before the obligatory photo:
Belfast Marathon
What a morning! With the sun shining, a warm marathon route was in prospect as the focus turned to Belfast for its traditional May Day Bank Holiday Monday race. With temperatures slowly rising, it was a tough slog around the local landmarks for everyone, and we had some representation completing the full course:
| Pos | Name | Time | Notes |
| --- | --- | --- | --- |
| 390 | Richard Donald | 03:41:33 | --- |
| 1428 | Danielle McCluskey | 04:38:07 | --- |
| 1402 | Jenny Mullan | 04:38:45 | --- |
Magic running by the three of you completing the entire distance. Great weather for those standing on the sidelines and cheering on, but for the runner's – that was some intense heat, but hopefully the shouts and cheers of the crowds willed you on… well that and the gels obviously! Great times folks, well done – we all hope that you went for a well deserved drink afterwards!
Belfast Marathon – Relay Teams
This year we had some extra club interest in the local marathon, with three Dub teams taking on the course too. At this stage, can I just say that there were prizes for the best team names – so I tried to be inventive! Let's take a look at the overall times for our teams:
| Pos | Name | Time |
| --- | --- | --- |
| 15 | Easier Said Than Run | 02:46:10 |
| 21 | Anyone Seen the Wednesday Pacer? | 02:54:58 |
| 341 | We've Got Soles | 03:56:49 |
Fantastic everyone, you did us all proud 🙂 Thanks for your support and for being accepting of the assigned legs of the marathon. I'm working on getting the breakdown of each leg for next week's edition – we'll see how well that goes!! The bar has been set for next year, can we beat three teams in 2018?! We also have a small collection of photos from the day – if anyone has any others feel free to send them on to me!
parkrun
In a change from the, frankly, Baltic conditions of the last week, Saturday morning was breezy, changable and bearable for a trip to the local park. So, in these (near) ideal conditions, it was great to see so many Dubs jump out of bed:
Name
Time
Notes

Derry City

Ronan O'FLAHERTY
00:22:50

Queen's

Kyle HOUSTON
00:18:11
Second Male! New PB!
Eimear PHAIR
00:25:59

Wallace

Steven TODD
00:19:25

Ormeau

James DICKEY
00:19:23
New PB!
Paul MCCREA
00:26:14

Victoria

Neil CURRAN
00:18:18
Newbie PB
Nessa AGNEW
00:23:48
Brian DERBY
00:23:49
Kathy MAYHEW
00:27:18
Roisin BYRNE
00:42:47
Alex BLACKSTOCK
00:48:12
Trevor MURPHY
00:48:12
Great running everyone – and what a morning for it! Some sun even managed to split the clouds (in certain parts), adding to the enjoyment of everyone's favourite weekly Saturday morning run. Let's tip or bank holiday hats to Kyle who was second home at the Queen's event. Let's not forget that we also had new course PBs set by James (at Ormeau), Kyle (at Queen's) and Neil (at Victoria).
Warmdown
Another favourite to use on the radio station at this time of the year was this hit – ah the memories! Thanks to everyone for their input this week, you're all awesome. Remember, you don't have to be crazy to join the Dub Runners – it just helps a lot! I was having an argument with the missus over the weekend, she told me that I had to get rid of all my Michael Jackson memorabilia, so I told her she could just beat it. All this comes after she told me that I had an obsession with Phil Collins – but take a look at me now.
Live long and prosper.
Disclaimer: Every effort was taken to ensure the results above are correct (I'm still tired from Thursday's run!!). If you'd like to make a complaint, then you'll automatically volunteer yourself for writing duties next week 🙂