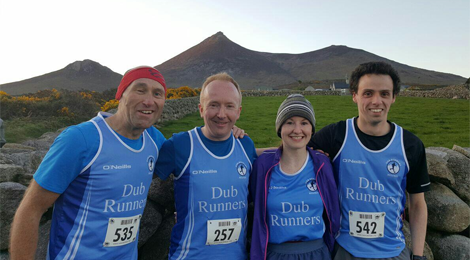 We had many, many Dubs taking on runs in the sun, more over the jump.
Warmup
As we scrape the inches of dust off the sunscreen bottles this week, we didn't forget about our running – lots of new reports to report from this week, plus a look back at the marathon relay teams. First, I have started thinking about selling all my John Lennon memorabilia – imagine all the PayPal. Let's have a look at the results:
Belfast Marathon Relay Splits
Well I promised, and I am going to deliver! Pretty sure this isn't going to be the last we hear of these relays, maybe next week we'll have some more news for you all! Below is a breakdown of how each relay team performed on May Day around the streets of Belfast:
Easier Said Than Run

James Trainor
00:34:54






02:46:10

Collette McCourt
00:23:07
Richard Conn
00:42:03
Suzanne Kennedy
00:35:05
Brian Darby
00:31:03
Anyone Seen the Wednesday Pacer?

Noel Kelly
00:39:27






02:54:58

Tara Thompson
00:25:15
Steven Todd
00:45:46
Bernadette O'Kane
00:32:43
Jim Larkin
00:31:49
We've Got Soles

Roisin Byrne
00:50:20 *





03:56:49

Kathy Mayhew
00:32:01 *
Jane Patterson
01:13:53
John Boyle
00:39:29
Laura McGill
00:41:06
I am sure you'll all agree that we performed over and above any expectations we had – all sub-4 hour team times, plus two teams in the mixed teams top ten. An impressive tally, and all fifteen have set a high bar for next year! The wee star beside Roisin and Kathy's times are estimated times.
Hill and Dales, Race 4: Binnian
Our streak of good weather for the H&Ds series continues as it moves to Binnian for the latest instalment. This one, in theory, sounds easy – 1.6 miles on a trail path, oh and up to the top of Binnian. Okay, so not so easy anymore, eh? We had a brave crowd of four Dubs taking on the course:
| Pos | Name | Time | Notes |
| --- | --- | --- | --- |
| 11 | James Trainor | 00:25:48 | --- |
| 85 | Steven Todd | 00:31:17 | --- |
| 118 | Bernadette O'Kane | 00:33:11 | --- |
| 120 | Jim Larkin | 00:33:15 | --- |
Magic running folks, great running on the most tough terrain. I know I said that there was a path to follow but at times it was tough to tell the path from the shrubs. Excellent running and another race from the series crossed off the list! The next race in the series is on Thursday, 11th May at 7:30pm and is the Rocky race.
NiRunning Mile
Is there any better way to spend a Friday evening than at the Mary Peter's Track? Add to that a fast, full pelt one-mile sprint race? That's exactly what was happening on Friday evening, as the local track hosted the celebration of miles: one mile, flat on a track, as hard as you can go. We had a good representation of Dubs there on the night:
| Pos | Name | Time | Notes |
| --- | --- | --- | --- |
| 23 | James Trainor | 05:10.47 | --- |
| 36 | Steven Todd | 05:23.09 | New PB! |
| 92 | Ronan O'Flaherty | 06:17.03 | New PB! |
| 103 | Suzy Kennedy | 06:23.76 | New PB! |
| 121 | Aaron Nagar | 06:38.13 | New PB! |
Some mighty fine and impressive running everyone. Lots of PBs on the night from Steven, Ronan and Suze – and stunning times from James and Aaron to top off a class evening for the Dubs. A notable mention to the Dub cheering squad who were out in force: Brian D, Paula, Nessa, Ryan and Peter. Including the shot below, a small (and hopefully growing) collection of photos are available in the gallery.
Killyclogher 10k
Moving to the county of Tyrone for the latest 10k race, and as you can expect it was warm – very warm. A fairly flat course, with a slight headwind until around the 6k mark made for a mostly enjoyable, if clammy race. We had just the one Dub taking part:
| Pos | Name | Time | Notes |
| --- | --- | --- | --- |
| 56 | Richard Donald | 00:43:59 | --- |
Nice running Ducky, great time and in that uncomfortable heat too. I know, from speaking to you that you were gunning for the PB – a valiant effort, but you almost got there! You'll just have to go for it again some time soon!! Let's not forget one of the Friends of the Dubs, Ivor Russell who also ran the race in 00:49:13 – good job!
parkrun
It's a beautiful morning! Blue skies, 12 degrees, no clouds – and it was a weekend! Usually this kind of weather is reserved for workdays, so plenty of runners out and about making the most of a rare weekend of sunshine. Let's not forget that there were an Errigle of Dubs up (very) bright and early:
Name
Time
Notes

Victoria

Kathy MAYHEW
00:25:16
Paul MCCREA
00:25:22
Jane PATTERSON
00:30:40
Brona SHAW
00:33:18
Alex BLACKSTOCK
00:46:22
Trevor MURPHY
00:56:59

Ecos

Ronan O'FLAHERTY
00:22:56
Newbie PB!

Ormeau

Alastair KING
00:20:08
John MCCULLAGH
00:21:09
Roisin BYRNE
00:23:42
Rachel Tessa BOLT
00:24:56
James GUINN
00:28:54

Stormont

John BOYLE
00:23:28
Nice running everyone, what a cracking morning for a parkrun. One hat tip today goes to the parkrun tourist Ronan (at Ecos). Everyone else wisely just went for an enjoyable run in their local parks! Of course, parkrun tourism plus a great day can only mean one thing – selfie!
Warmdown
Wee bit of a shorter roundup than we've had the last few weeks, you can almost hear the cheers from my keyboard. Remember to let me know if you're doing any random races that might slip off my radar! I was at a bit of a shindig over the weekend where I lost my Rolex. Frantically searching for it, I found a guy standing on it, giving a girl some hassle. Well I couldn't let that happen – not on my watch.
Live long and prosper.
Disclaimer: Every effort was taken to ensure the results above are correct (I actually had to do work in my real job this week). If you'd like to make a complaint, then you'll automatically volunteer yourself for writing duties next week 🙂