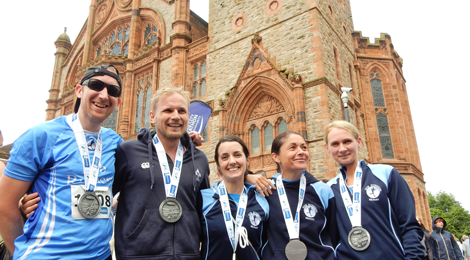 Everyone seemed to do a parkrun or a marathon this week – all over the jump!
Warmup
What a week for the Dubs! You can tell that summer time is here – lots of races going on, and lots of Dubs out at them. We have effectively had our own Super Sunday this week – find out all about it a little later. I had to provide some emotional support at the weekend for my mate who is an archaeologist, he called me up in tears saying "my career is in ruins". Right, let's get this bumper edition going…
Hill and Dales, Race 8: Millstone
Just like a good theme park, Thursday's race was wet and wild. Start off in Donard park, onto the path and up the (nearly) vertical granite trail. Follow the wall then swing right and onto the summit. Downhill to the quarry, into the forest for a surge to finish for the single Dub there:
| Pos | Name | Time | Notes |
| --- | --- | --- | --- |
| 88 | Jim Larkin | 00:52:52 | --- |
Fantastic running Jimbo – a great record at the H&Ds series, and what an evening to do it. The course was a mixture of a mad cross country with forest trail paths – never an easy ask. Of course, not one to shy away from the camera, Jim sent us this snap –
Randalstown 10k
Sure, why wouldn't you do a race ten minutes away from your office?! It's not like it was a horrible evening or anything. All I have heard about the course is that it was "lovely, even in the rain". The route takes in the Forest Park down to edge of Lough Neagh before returning to the start. Just the one Dub taking part:
| Pos | Name | Time | Notes |
| --- | --- | --- | --- |
| 35 | James Sheridan | 00:45:28 | --- |
Nice running James – and a great time too – a nice warmup for the weekend! 109 finishers on the night, from the reports online, it sounded like a great race. Sadly though, no photos – I mean – what's up with that?!
Albertville Harriers 4 Mile Road Race
You know that6 bit of the Belfast Marathon that everyone hates? You know it, along the industrial estate? Well, someone thought that this would be a great location for a run!! Taking in the sights, sounds and smells of the ships coming into Belfast, we had two Dubs taking part:
| Pos | Name | Time | Notes |
| --- | --- | --- | --- |
| 205 | Maureen Oliver | 00:37:37 | 1st Female Over 60! |
| 235 | Alex Blackstock | 00:40:28 | --- |
That's some nice running there folks! To take a positive spin on things, it's a grand flat course for getting a good time. A hat tip to Maureen on her placing first in her category at the race – representing the Dubs to the max there! Sadly, I can't find any photos from the race 🙁
Hazelbank 5 Mile Race
Taking the much easier option on Sunday – a nice jog along the seafront then up a small hill to the finish, sounds lovely and it was until the final 1km. Just the one Dub representing out there on the course:
| Pos | Name | Time | Notes |
| --- | --- | --- | --- |
| 6 | Steven Todd | 00:31:27 | --- |
Great running Steven – job done and the knee fully tested. A very respectable 6th place finish – you should be very happy! It is great that you're ready to get "back to business" again! Also, looking fresh heading towards the finish line:
Gran Fondo Belfast
Okay, so this one has no running in it, but it deserves a mention. In case you missed all the road closures on Sunday it was because a few people wanted to go for a cycle. We had three club members taking on the 'short' course – that was 40 miles for those uninitiated among us:
| Pos | Name | Time | Notes |
| --- | --- | --- | --- |
| 40 | Kate Moffett | 01:52:05 | First Home! |
| 1082 | Roisin Byrne | 03:03:15 | --- |
| 1180 | Nessa Agnew | 03:11:22 | --- |
I can say for once – "on yer bike"! Nice cycling folks, it looked like a great day (we've seen all the photos on Facebook) and I think you all got finished before the rain moved in! A special nod to Kate – who was first woman across the line, we even got a photo of the podium:
Cork City Marathon
With the sun shining, and spirits high – the first of Sunday's marathons focused the attention in Cork. The 42.18km route crosses the scenic River Lee twice and skirts along Lough Mahon before heading back into the heart of the city for the finish. We had representatives in the marathon and half marathon routes:
Pos,Name,Time,Notes
Name
Time
Notes

Marathon

516
Karen McBarron
03:57:52
---
583
Jane McCann
04:02:07
---
896
Kathy Mayhew
04:39:43
---

Half Marathon

176
Andrew Noble
01:35:20
New PB!
That is some amazing running girls – times to be more than proud of. I hear, from reputable sources, that the heat was much more stifling than expected, which made for quite a muggy run. A bit of a hat tip to Andrew who only went and knocked 45 seconds off his PB over the 13.1 mile route. At the end of the day, Cork belonged to these three:
Walled City Marathon
The fourth running of the North West's featured race also took place on Sunday – with a small Errigle of Dubs taking to the streets. In near ideal conditions of overcast skies with some short (but light) showers providing some cooling, the course snakes around the River Foyle as its central point before finishing along the city's historic walls in the Guildhall Square. Let's see how everyone got on:
| Pos | Name | Time | Notes |
| --- | --- | --- | --- |
| 190 | Bernadette O'Kane | 03:33:46 | New PB! |
| 297 | Graeme Colhoun | 03:47:30 | --- |
| 305 | Heather Barron | 03:47:26 | --- |
| 359 | Andrew McDermott | 03:51:48 | --- |
| 370 | Anne Gribbin | 03:52:44 | --- |
| 375 | Marcella Cassidy | 03:53:23 | New PB! |
Amazing! That was really impressive running from each and every one of you. We had new marathons PBs set by Bernie (in her first marathon as a Dubber) and Marcy (in her last marathon as a Dubber for a while). With ample club support along the route (if I might say so myself) there were lots of smiles along the way! Big nod to our Friend of the Dubs Ciara Maguire, who had the pleasure of running the last 11 miles with our Paula, who crossed the line in a great time of 04:33:32! We don't just have a featured image this week, oh no, we have a gallery full of amazing pictures from Sunday's race!
parkrun
From what I read online, the further west you went, the more rain you had during your parkrun event. With the Belfast events getting completed in the dry, others – not so dry! I haven't seen a list of parkrun Dubs this long in quite some time, so fair play to everyone for getting out there this weekend:
Name
Time
Notes

Waterworks

Louise JONES
00:25:26

Derry City

Ronan O'FLAHERTY
00:24:52

Victoria

Brian DERBY
00:21:31
Aine HUGHES
00:22:10
Michael KIRK-SMITH
00:22:36
John BOYLE
00:23:59
Trevor MURPHY
00:26:29
Alex BLACKSTOCK
00:31:58

Queen's

James TRAINOR
00:18:57
Kyle HOUSTON
00:19:07
Eimear PHAIR
00:27:03

Falls

Steven TODD
00:20:16
Third Male!

Portrush

Bernadette O'KANE
00:21:59
New PB!

Omagh

John MCCULLAGH
00:19:46
Newbie PB!

Ormeau

James DICKEY
00:19:27

Stormont

Brian GRIMES
00:21:13
Newbie PB!
Nessa AGNEW
00:25:21

Falcarragh (Ireland)

James SHERIDAN
00:22:23
Nice running everyone – and I literally mean everyone! First off, special nod in her first parkrun as a Dub to Louise at the Waterworks event. Hat tips now, with Steven third man across the line at the Falls event. Next up, it was a PB weekend for our Bernie who her best time at the Portrush event. Finally, two newbie PBs to John (at Ormeau) and our illustrated leader Brian (at Stormont)!
Warmdown
Right, phew – and rest! Please think of the trees before even considering printing this one. My personal thanks to everyone who helped contribute this week – too many to mention. Being a thoughtful citizen I rang the council to ask if I could have a skip outside my house. They said "You can cartwheel down the street for all we care".
Live long and prosper.
Disclaimer: Every effort was taken to ensure the results above are correct (there was A LOT to cover this week!!). If you'd like to make a complaint, then you'll automatically volunteer yourself for writing duties next week 🙂