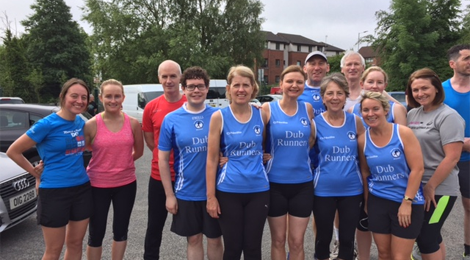 Three 10k's, a 5k, a Hill & Dales and some parkrun over the jump!
Warmup
Gotta love the summer: the heat; the sunshine, the sheer number of races we need to cover!! Another busy and impressive week for the club, plenty of fixtures to cover in a moment. I met a girl at a club the other night and she said she'd show me a good time – when we got outside she ran 400m in 47.60 seconds.
Dromara 5k
Dromara, between Dromore and Downpatrick hosted their annual 5k race on Wednesday evening. Looking at the altitude profile on Strava – that looked like one tough 5k route. Luckily though, we had one Dub taking part who's on a roll and at the peak of his fitness taking part:
| Pos | Name | Time | Notes |
| --- | --- | --- | --- |
| 88 | Alex Blackstock | 00:33:28 | --- |
Alex well done, a great time on a tough old course. The hard work is paying off. See for any perspective new starts – our Tuesday interval sessions help make all the difference – sign up today! Right, that's the advertisement over, great work Alex!
Newells 10k
Coalisland in Tyrone hosted the Dromara 10k last Thursday evening. The mostly flat out and back in course followed the canal on the way out, before looping back to the village. She might be new, but she's not flat out at the races, one of our newest representing the Dubs:
| Pos | Name | Time | Notes |
| --- | --- | --- | --- |
| 138 | Louise Jones | 00:46:11 | --- |
Great running Louise, on a great evening for it too. Sometimes the flatter routes can be trickier out in the sticks – so that was an awesome time posted. Lots of smiles in the photo below, so I'm going to guess this was either before the unknown of the route at the start – or at the very end happy to have it all over… I suppose we'll never know!
Hill and Dales, Race 10: Meels
Just south of Kilcoo there is Slieve Bearnagh – and if you knew that, then you like did the penultimate race of the 2017 Hill and Dale's series!! The course, as has become traditional, can be summed in this sample video. On an evening, with what can only be described as ideal (if a little windy) conditions, we had a single brave Dub take to the hill and dales:
| Pos | Name | Time | Notes |
| --- | --- | --- | --- |
| 101 | Jim Larkin | 00:46:12 | --- |
Nice running Jimbo – you're nearly there now, just the one final race left. I have to admit, I winched a little when I spotted that you just missed out on a top 100 placing. I'll bet you were raging… so raging that you forgot to take a photo??? The last race of the series takes place on Friday evening at Drinnahilly.
Brian Goodwin Memorial 10k
We all know the standard trip away check list: boarding pass – ✓ Luggage – ✓ Sun cream – ✓ Race entry – ✓. Two intrepid Dubbers, while off on a little weekend away decided to enter one of the local 5k races. The race contained an ideal course (flat and fast) in ideal conditions around Pollock Park in Glasgow. Let's see how they got on:
| Pos | Name | Time | Notes |
| --- | --- | --- | --- |
| 15 | James Trainor | 34:18 | --- |
| 256 | Suzy Kennedy | 47:09 | --- |
Nice running folks with some impressive times around the course – sure what else would you be doing on a Friday evening. With James finishing in the top 15, and Suzy finishing in a position number that would impress all the programmers out there – I think we can all say that it was a job well done!
Comber 10k
If Thursday's Newell's 10k was a little too far away for you, then Friday provided an alternative a little closer to home. For anyone crazy enough to have completed the Ards Half Marathon you'll have passed through Comber, and that is where the looped "surprisingly hilly" 10k started and ended all out on the main roads. All the J's out on Friday evening:
| Pos | Name | Time | Notes |
| --- | --- | --- | --- |
| 61 | Jim Simmons | 00:40:28 | --- |
| 275 | James Guinn | 00:50:10 | --- |
Great running guys, nice times posted over the 10k distance. From reading online the course was a little deceiving, but by the looks of things you both made the best out of the evening. Still though, no photos from the evening 🙁
Flashmob parkrun: Colin Glen
Could we have asked for a better morning for our sixth flashmob parkrun of the year?! With blue skies and the sun shining down on us, we descended on Colin Glen park for, what was planned to be, a more social parkrun. We had an ulterior motive this month, as we took the opportunity to celebrate Jane's 100th parkrun in style! If you're not familiar with the Colin Glen route, well, basically the first mile is practically all uphill – so let's see which crazy Dubs took it on:
| Name | Time | Notes |
| --- | --- | --- |
| Nessa AGNEW | 00:26:25 | |
| Michael KIRK-SMITH | 00:28:26 | Newbie PB! |
| John BOYLE | 00:30:49 | Newbie PB! |
| Louise JONES | 00:31:05 | Newbie PB! |
| Jane PATTERSON | 00:32:35 | Newbie PB! |
| Frances MCCAMBRIDGE | 00:32:37 | Newbie PB! |
| Lynn DONNELLY | 00:32:37 | Newbie PB! |
| Kathy MAYHEW | 00:32:37 | Newbie PB! |
| Anne Marie RYAN | 00:32:38 | Newbie PB! |
| Ronan O'FLAHERTY | 00:32:38 | |
| Steven TODD | 00:34:52 | |
| Brona SHAW | 00:37:11 | Newbie PB! |
Nice running everyone – lots of smiles after the run and everyone thoroughly enjoying the event and the awesome hospitality. No PBs from the returners to the event (not surprising considering the social aspect of the run), but lots of first timers at the park including: Michael, John, Louise, Jane, Frances, Lynn, Kathy, Ann Marie and Brona! We also had Fiends of the Dubs Cameron Riley ran a time of 28:59 and Cathy Ryan cross the line in a newbie PB time of 31:04. Of course, it wouldn't be a flashmob without another awesome gallery of photos including this one:
parkrun
Some of our club members decided to ignore my e-mail and go do their own parkrun (your name have been noted)! Not to worry, it's not like we had a great time in Colin Glen (we did though), but by the looks of things you all had a pretty good time (and times) yourselves:
Name
Time
Notes

Victoria

Andrew NOBLE
00:20:08
Newbie PB & 5k PB!
Trevor MURPHY
00:44:10

Queen's

Kyle HOUSTON
00:18:57
Eimear PHAIR
00:25:41

Ormeau

James DICKEY
00:19:16
New PB!
Martin TEGGART
00:24:44

Perth (Scotland)

James TRAINOR
00:18:50
Newbie PB!
Suzy KENNEDY
00:24:45
Newbie PB!

Bramley (Leeds)

Mike SMITH
00:25:10
Newbie PB!
Mega running everyone – what a morning for a parkun too! Hat tips this week go to Andrew who set his all time 5k PB at the Victoria event – on his first running! Also, shaving a little more (again) off his course PB was James D at the Ormeau event. Last and definitely not least we had newbie course PBs set by James T and Suzy (at Perth, Scotland) and Mike (at Bramley, Leeds).
Warmdown
That's it all wrapped up for this week. I'm going to reintegrate my call for more photos from the races please – they're cool natural breaks in between my ramblings!! Some worrying news to leave you all with this week, as Little Red Riding Hood has been found in a critical condition – paramedics have stabilised her condition, but she's not out of the woods yet.
Live long and prosper.
Disclaimer: Every effort was taken to ensure the results above are correct (you know the deal by now!!!). If you'd like to make a complaint, then you'll automatically volunteer yourself for writing duties next week 🙂