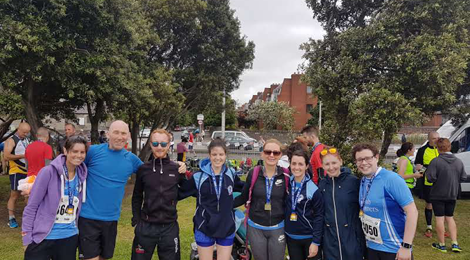 It is the summer. There are lots of races. We did lots of races. Full results over the jump!
Warmup
That's it half the year is over, and of course it is a chance to start afresh again our plans for 2017. So start the second half of the year as you mean to go on… which is good news for anyone who joined us for drinks on Saturday evening!! Before we get to the results, I annoyed the missus by messing with her red wine – I've added fruit and lemonade to it and now she's sangria than ever. Right, let's see what we've been up to!
Grant Thornton Runway Run 2017
I missed this one last week, and for good reasons too – I literally can't find a single result about this years run. What I can tell you is that, as part of their business teams we had Paula, Alistair and Andrew. I hear that you all did very well (again, no results, sorry!!) but that Paula's team won the event – so three cheers!
Clougher 10k
Sure, let's kick things off with a gentle mid-week 10k race. We move to Tyrone, and the idyllic countryside of Clougher for an undulating but enjoyable (or so I am told) race along the country roads (please, stop singing now). This sounds like a race for only one man:
| Pos | Name | Time | Notes |
| --- | --- | --- | --- |
| 1 | Niall Porter | 00:35:05 | First Male! |
Fantastic running Niall – some achievement too, taking the top step of the podium. You always make the races look easy – as if it doesn't take a thing out of you. We have one photo, and if you've ever wanted to see what it is like to win a race by a country mile – now you know:
Drumlough Five Mile Race
A little closer to home now, and a slightly shorter five mile course in Hillsborough. This was a hilly one, two loops – so always one of those races that you have to do any parts you hate twice! Not put off by any of that, we had one Dubber take to the line:
| Pos | Name | Time | Notes |
| --- | --- | --- | --- |
| 11 | Louise "Runniest Dub" Jones | 00:36:46 | First Female! |
Nice racing! Great time Louise – and taking the top step of the podium! A very impressive achievement for one of our newest recruits! Of course, we have the obligatory photo below, and after all that you'd like to think that she took a break, wouldn't you?!
Ards Half Marathon
This course still gives me the shivers two years later! If you want to take on one of the most challenging half marathon courses around, and do it on a Friday evening after work – then this is ideal for you! The undulating course, takes people up lots of hills – out to Comber and back into town again – but not before one last hill. We had our first of the roundup, Errigle of Dubs taking part:
| Pos | Name | Time | Notes |
| --- | --- | --- | --- |
| 40 | Brian Derby | 01:28:02 | --- |
| 57 | Jim Simons | 01:29:52 | --- |
| 192 | Louise "Runniest Dub" Jones | 01:42:56 | --- |
| 220 | Mark "Luke Skywalker" Hamill | 01:44:26 | --- |
| 247 | Richard "Ducky" Donald | 01:46:29 | --- |
| 250 | Heather "Barnzo" Baron | 01:46:37 | --- |
| 254 | Anne "Girbbers" Girbbin | 01:46:38 | --- |
| 403 | Maura McArdle | 01:57:16 | --- |
That is really great running everyone – some really impressive times on a warm and tough slog around the streets (note: Louise was running, again). A great post-race feed almost made up for race – including a rather nice packet of crisps! There was even time for a quick photo, looking as fresh as at the start:
Man vs. Horse: Half Marathon
Okay, there isn't much about this one online – not even any official results, so please bear with me! This was a random one, remember the 100 marathons in 100 days guy? Now remember the 60 ultas in 60 days guy? Well his latest challenge is to race a horse around a two-mile loop around the Palace Demense in Armagh. Part of the events orgnaised was a half marathon:
| Pos | Name | Time | Notes |
| --- | --- | --- | --- |
| Ukn | Louise "Runniest Dub" Jones | 01:59:00 | --- |
There you go – I hear that was a tough, fun and interesting race to be part of. Nice time too considering, you know, all the running you've already done this week! (Note: Louise running, again – again!) For those of you worried, several horses were used to give them a rest – only one man used though. Keeping the tradition going, there's even a photo:
Clontarf Half Marathon (The Race that Broke the Dubs)
Right, so how hard could a wee, flat run along the coast in Dublin be? I'll save you the hassle – very tough! This was a unique event, although a flat course, there were lots of different terrain to run over: concrete, wood, soft sand, hard sand and even some tarmac. There was an Errigle of Dubs who made the journey:
| Pos | Name | Time | Notes |
| --- | --- | --- | --- |
| 26 | Steven "Sneaky Save" Todd | 01:28:55 | --- |
| 110 | Claire Tonry | 01:35:16 | --- |
| 240 | Bernadette "Pocket Rocket" O'Kane | 01:42:19 | --- |
| 298 | Anna McArdle | 01:44:56 | --- |
| 581 | Kate Moffett | 01:55:30 | --- |
| 821 | Marcella Cassidy | 02:00:46 | --- |
| 837 | Ronan O'Flaherty | 02:01:49 | --- |
Yikes – not one of the group found that race an easy one. Some fantastic times – Claire setting a stunning time in her first 13.1 miles and Steven almost equalling his PB from a few months ago. It was a lovely day though to be out and about and a great club day with lots of great confusing shouts from the locals when they spotted our tops! As I was involved, there is a small gallery of photos, including this one of everyone happy that is was all over:
parkrun
So, if a half marathon wasn't on your agenda for the weekend – why not?! There was always the traditional parkrun to fall back on. A great bunch of Dubbers out and about and at a variety of different courses – shows what you can do when one of the local events is cancelled for one week! Let's take a look at how everyone got on:
Name
Time
Notes

Queen's

Eimear PHAIR
00:25:14
James GUINN
00:25:39

Enniskillen

Mike SMITH
00:23:17
Newbie PB!

Ormeau

Niall PORTER
00:17:29
Second Male! New PB!
James DICKEY
00:19:05
New PB!
Brian DERBY
00:21:38
Clare MCDOWELL
00:25:10
Paul MCCREA
00:25:23

Antrim

Alex BLACKSTOCK
00:29:33

Stormont

Michael KIRK-SMITH
00:22:39
Newbie PB!
Stephen IRVINE
00:23:27
New PB!
Nessa AGNEW
00:24:06
Trevor MURPHY
00:26:26
New PB!
Nice running everyone – great times posted at various parks around the country. Let's tip our hats this week, first off to Niall who was second home at the Ormeau event – and set a new course PB at the same time. We had some new course PBs set by James "Jesus" D (at Ormeau) and Stephen and Trevor (at Stormont). Two newbie PBs set this week by Mike (at Enniskillen) and Michael-Kirk (at Stormont).
Warmdown
Phew – another extended edition this week – I do love the summer, seeing so many of the Dubs out and about. I've had a few people supply me with results this week – thanks for that. There's a lot of races to cover at the moment, so you're help in celebrating your results is appreciated. I was washing my hands in the toilets at work earlier, and I cupped my hands so that the water started to fill up until it started to overflow. When the guy beside me looked over I said to him "You know, this water is getting out of hand!"
Live long and prosper.
Disclaimer: Every effort was taken to ensure the results above are correct (I'm sore and I drove to Dublin over the weekend!!). If you'd like to make a complaint, then you'll automatically volunteer yourself for writing duties next week 🙂